Nieuws / News
——————————————————————–
20-05-2019
——————————————————————–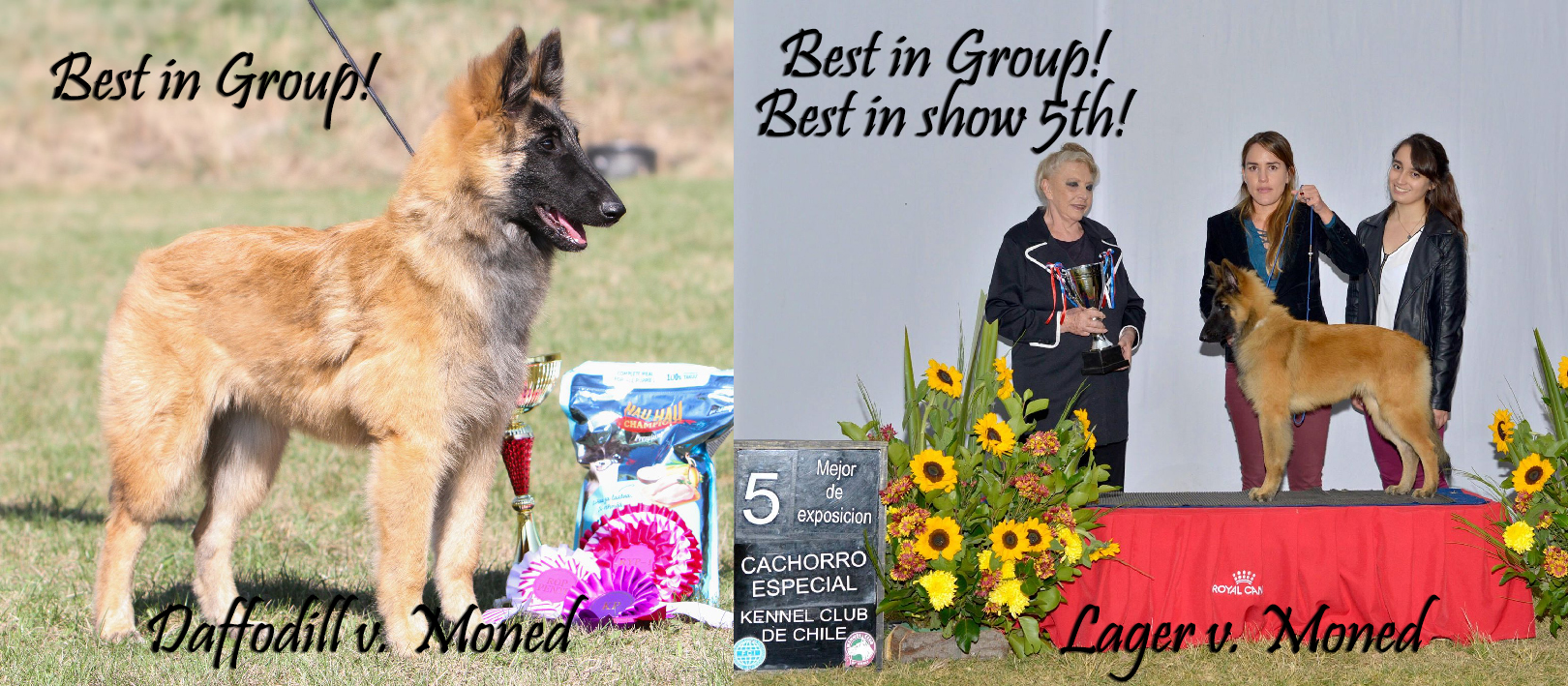 We willen onze puppies van het Yellow nest feliciteren met de volgende resultaten:
Daffodill v. Moned "Finland" 2 weken geleden: 2e beste baby in show (74 pups ingeschreven). Dit wekend: 1e beste in de groep. Gefeliciteerd Annette!
Lager v. Moned "Chilli" Saterdag 2e beste in groep. Zondag 1e beste in groep en 5e best in show! Gefeliciteerd Danielle & Javier
We want to congrat our Yellow litter with the following results:
Daffodill v. Moned  "Finland" 2 weeks ago: 2th best baby in show (74 puppies entered). This weekend best in groep 1 Congrats Annette
Lager v. Moned "Chili" Saterday 2th best in group and Sunday Best in group 1 and 5th best in show! Congrats Daniella and Javier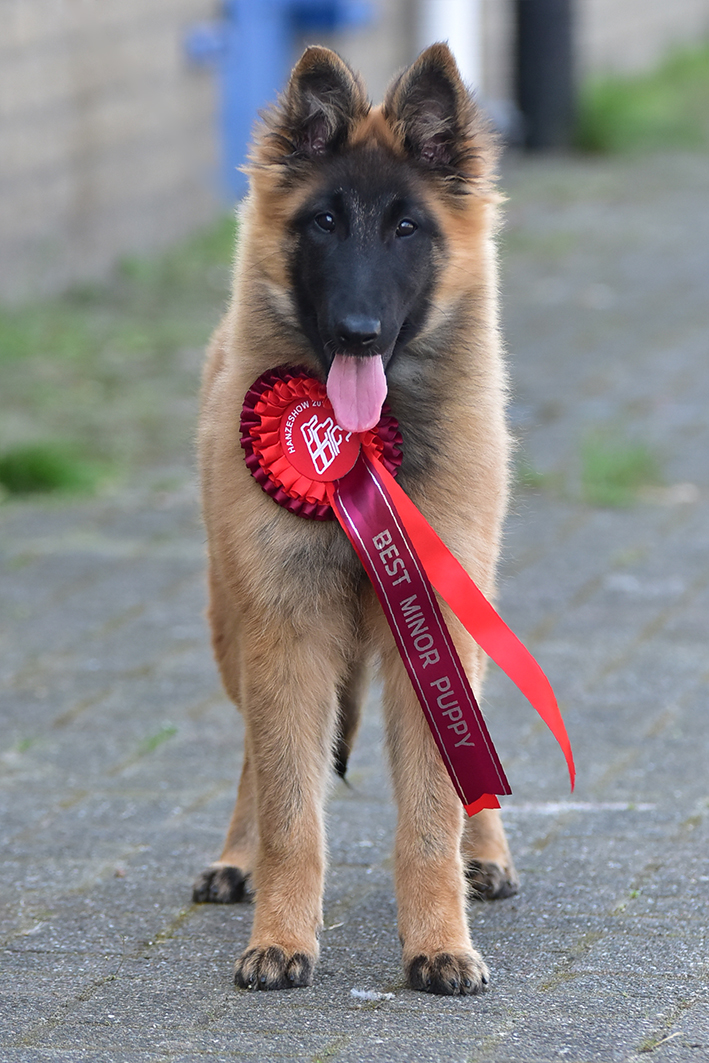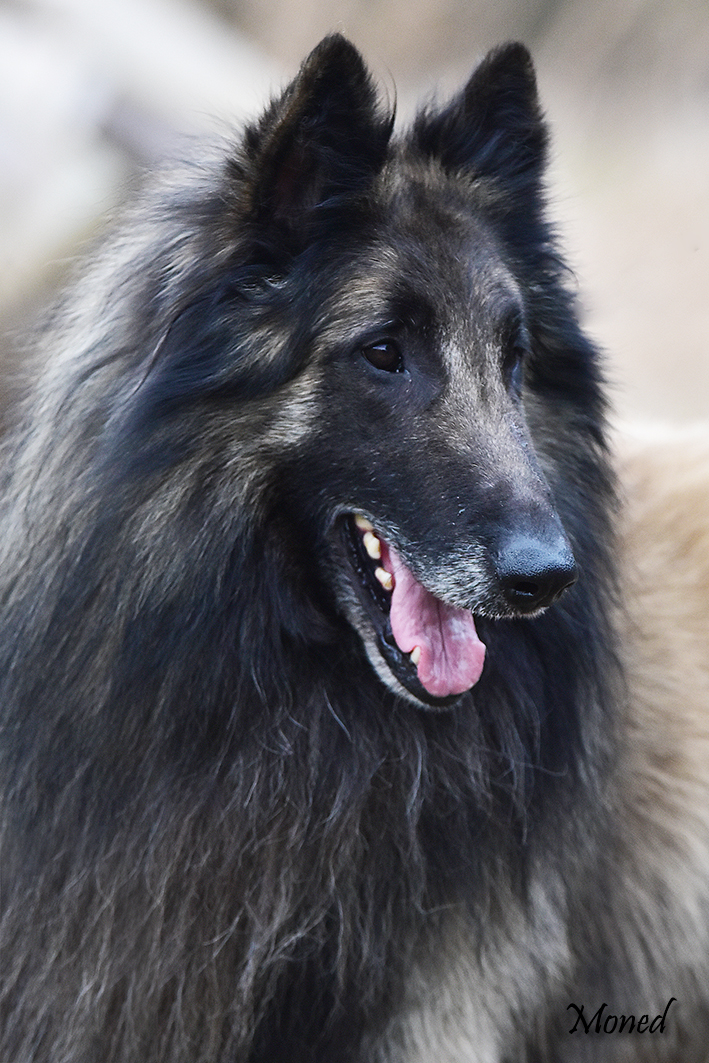 Hoewel er niet zo veel updates komen op de nieuws pagina is het erg druk bij ons! De kleine "A's" groeien hard net zoals de kleine Laekentjes die al weer 5 weken zijn geworden afgelopen weekend! 
We zijn dit weekend naar de Internationale tentoonstelling in Zwolle geweest en de honden hebben daar weer enkele super resultaten gehaald. Rodin heeft zijn laatste punt voor zijn Nederlands Kampioenchap gehaald! Ook Semtex behaalde haar laatste punt, helaas is ze nog te jong dus moet ze nogmaals naar de show als ze 24 maanden is geweest. Maar onze nieuwe hoop voor de toekomst Cheese v. Moned deed het super goed aangezien zij alle babies van de tentoonstelling versloeg en op het podium naast bordje 1 plaats mocht nemen! We zijn zo ontzettend trots dat de kleine meid zo stoer door de ring heen wandelde of ze het iedere dag deed 🙂
Semtex is ook officieel gerontgend en heeft perfecte heupen (HD-A) en elleboven (ED-0/0)!!
Even though not many updates we are crazy buzy at Moned, The little "A's" are growing fast and passed the 3 weeks mark this weekend! also the little Laekens are 5 weeks now and are getting very very cute! 
This weekend we went to the International allbreed show in Zwolle. Our dogs had some amazing results! Rodin got his last point for his Dutch championship! Also Semtex v. Moned got her last point for her championship, sadly she is still to young so needs 1 more small win after the age of 2 years. The big surprise of all was our young hope for the future Cheese v. Moned who beat all the baby's at the show and took 1th place on the huge stage! We are so very proud that she handled everything like she did it for years! such a brave little girl 🙂
Semtex has been officially x-rayed, Perfect hips (HD-A) and perfect elbows (ED-0/0)!! 
De puppies van Aecio en Fling zijn geboren! Voor meer informatie kijk bij puppies!
——————————————————————–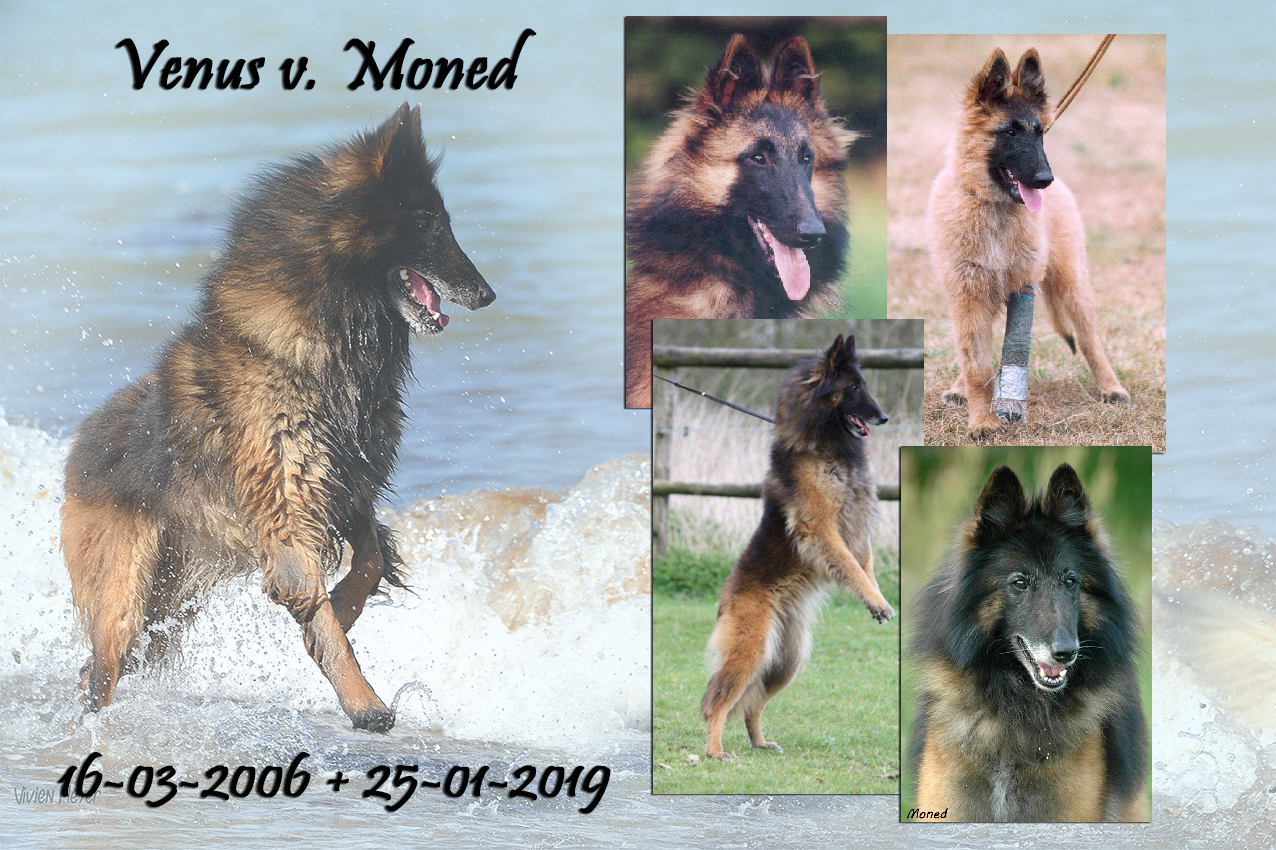 Yesterday we said goodbye to our little, brave, crazy girl Venus van Moned
She lived her life at full speed, always running, full of energy and looking if she could cause any trouble
Last month she started to become depressed and did not enjoy life anymore
last few days not only her mind gave up but also her body…we had to make the tough decision to let her go..
Her daughter Tulip will fullfill her legacy and her two grand daughters Semtex and Cheese will always remind us of her
Venus never had a show career due to 2 severe injuries at very young age but her beauty was undeniable..
Venus run free and have fun chasing the cats at the rainbow bridge.. 16-03-2006 + 25-01-2019
——————————————————————
Alle puppies zijn besproken en zijn aan het vertrekken naar hun nieuwe huis! 
——————————————————————–
 All the puppies are reserved and are leaving to their new homes
—————————————–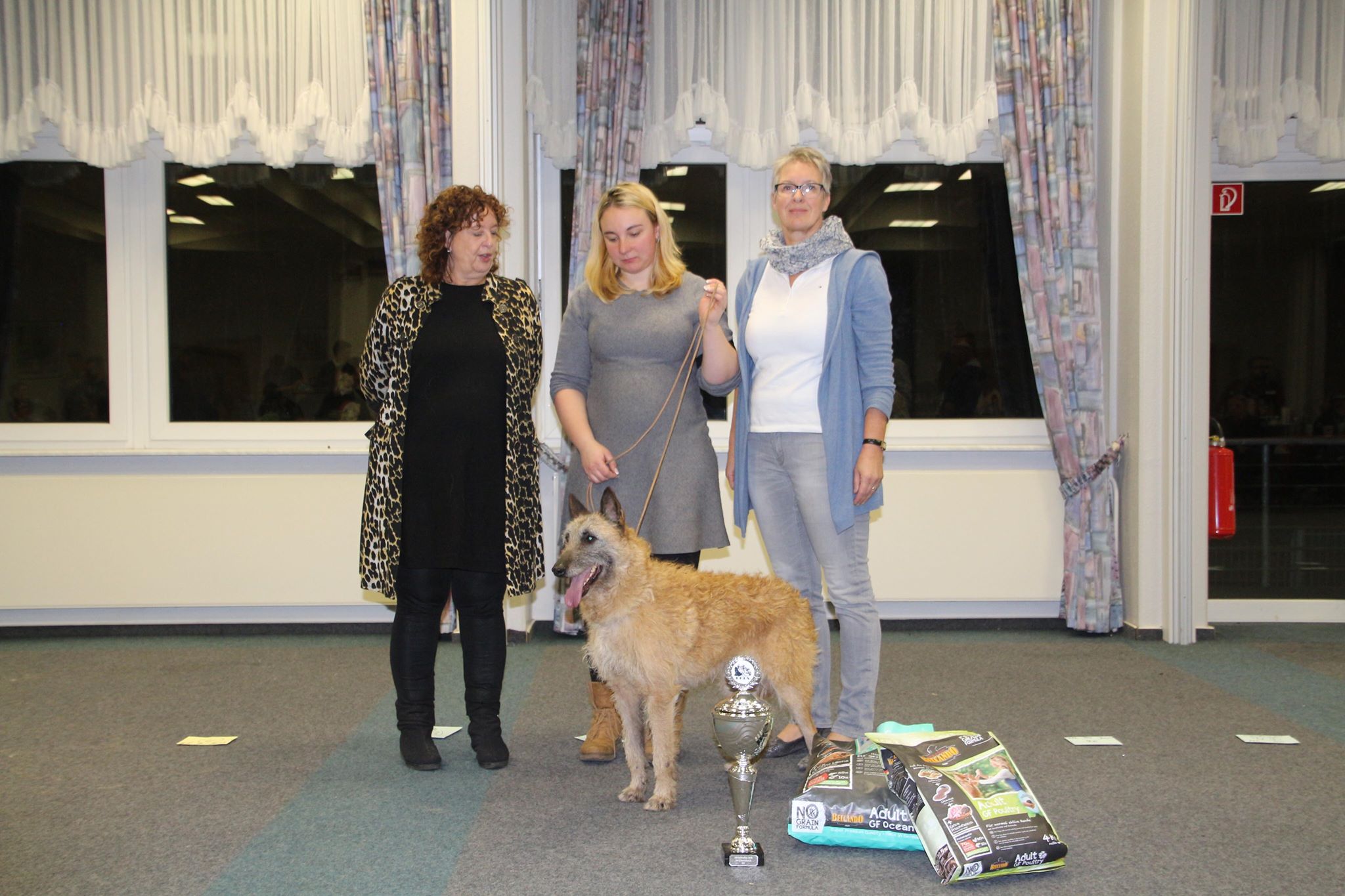 We zijn weer veilig thuis na een een super leuke dag in Duitsland op de jaarlijkse Advent speciale van de DKBS. De keurmeesters van deze dag waren Pauline Koning Stern-Hanf en Meike Krug. "Onze" vaste handlers Brendan Smit en ViVi Heyer super bedankt voor het voorbrengen van onze honden!
Onze resultaten 😉
Rodin v. Moned 1Ex CAC en beste reu!!
Semtex v. Moned 1Ex Beste teef en beste van het ras vanuit de jeugdklasse!
Maar het beste resultaat van deze dag ging toch echt naar onze Laekense Sioux v. Moned die na 2 jaar "rust" van het showen maar liefst 1U CAC, Beste teef, Beste van het ras en uiteindelijk de hele show won met BEST IN SHOW! Echt ongelovelijk dat dit haar voor de 2e keer gelukt is en vooral voor een Laekense herder!
Er waren bijna 100 honden ingeschreven op deze dag. We zijn ontzettend trots op onze honden die alles mogelijk gewonnen hebben deze dag 🙂 ontzettend bedankt aan de keurmeesters en de organisatie voor deze geweldige dag en het mooi kunnen afsluiten van een ontzettend succesvol show jaar van onze honden!
 Arrived home yesterday after a great day at the DKBS advent specialty 🙂 Judges of the day were Pauline Koning Stern-Hanf and Meike Krug, many thanks!, also big thanks to "my" handlers Brendan Smit and ViVi Heyer
Our results 😉
Rodin v. Moned 1Ex CAC and Best male!
Semtex v. Moned 1Ex Best female and BEST OF BREED!
But the best result of the day went to our Laekenois Sioux v. Moned after 2 year show break 1Ex CAC, Best of breed and at the end BEST IN SHOW! unbelievable to think how sick she has been and that she is in such great shape only a few months after.
Almost 100 dogs entered! We are so so proud and so happy that our dogs won everything possible 🙂 A great way to finish our show year of 2018! Many thanks to the judged and organisation for this very cool day. It was a super feeling to finish the year like this after a incredible show year for our dogs.. even though minimal shown our dogs won BIS in the Netherlands, Belgium and Germany, CAC and BOB's at most of the specialty's Moneds were entered and this with only so few enteries of our kennel.. We can not wait for 2019 with our young upcoming dogs 🙂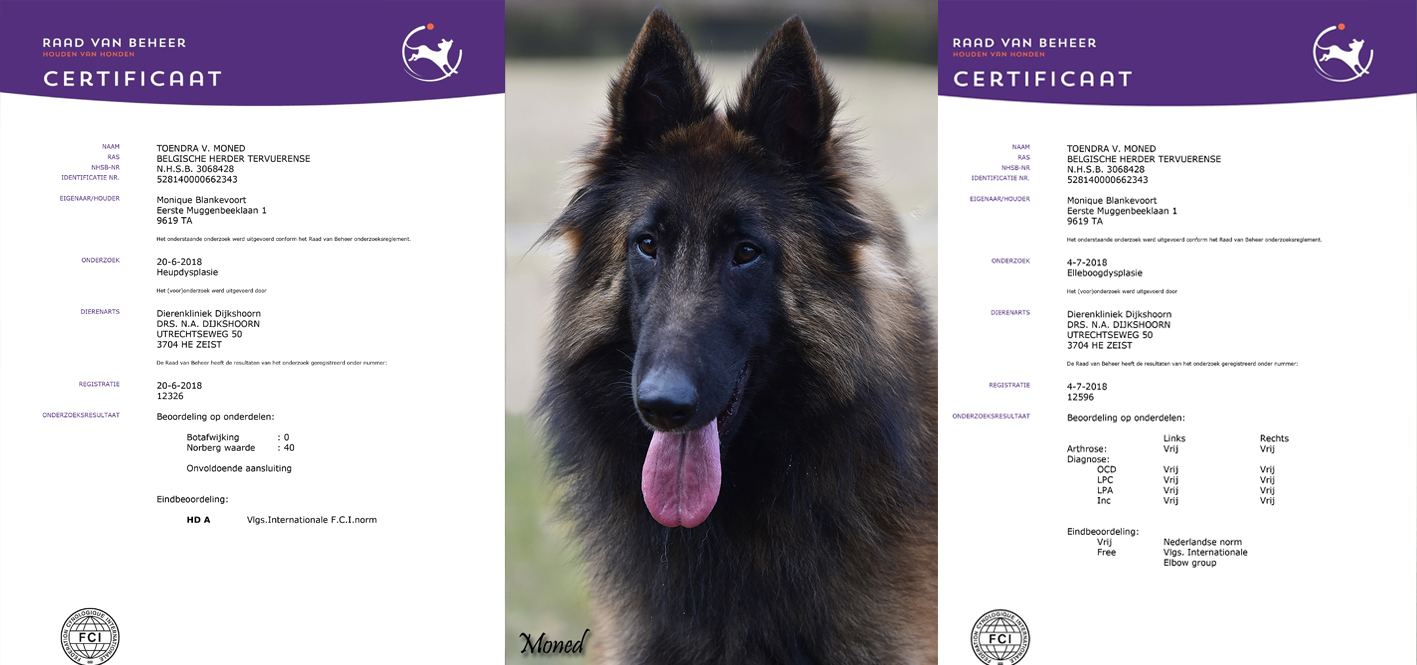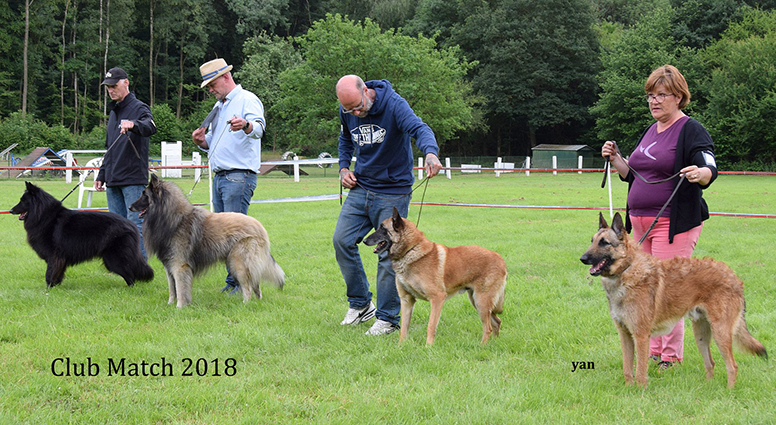 WHOEHOE! what a day 🙂 today in Belgium at the Club Match Rodin v. Moned Best male, Best Tervueren and BEST IN SHOW!! Baby Semtex BEST IN SHOW Youth!! Thanks to my handlers Edwin Stammis and Patrick De Houwer who had there hands full with our wild boy 😉 Many thanks to judge Babs Robinson of thinking so highly of the kids! Rodin also did the Belgium temperament test and passed it with highest level on social and biting 🙂 the IPO guy loved him LOL and said we needed to start IPO together 😉 Thanks Yannick Butez for the great picture of this stunning line up of beautiful Belgians!
WHOEHOE! wat een dag!, Vandaag zijn we met Rodin en Semtex naar de Belgische blucmatch geweest. Rodin werd beste Tervueren reu, beste Tervueren en uiteindelijk best in show!! Semtex werd beste jeughond in show. De keurmeester was  Babs Robinson uit Engeland. Rodin heeft ook nog de Belgische karakter test gelopen en behaalde deze op het hoogte niveau net zoals in Nederland 🙂 we zijn zeer trots op hem!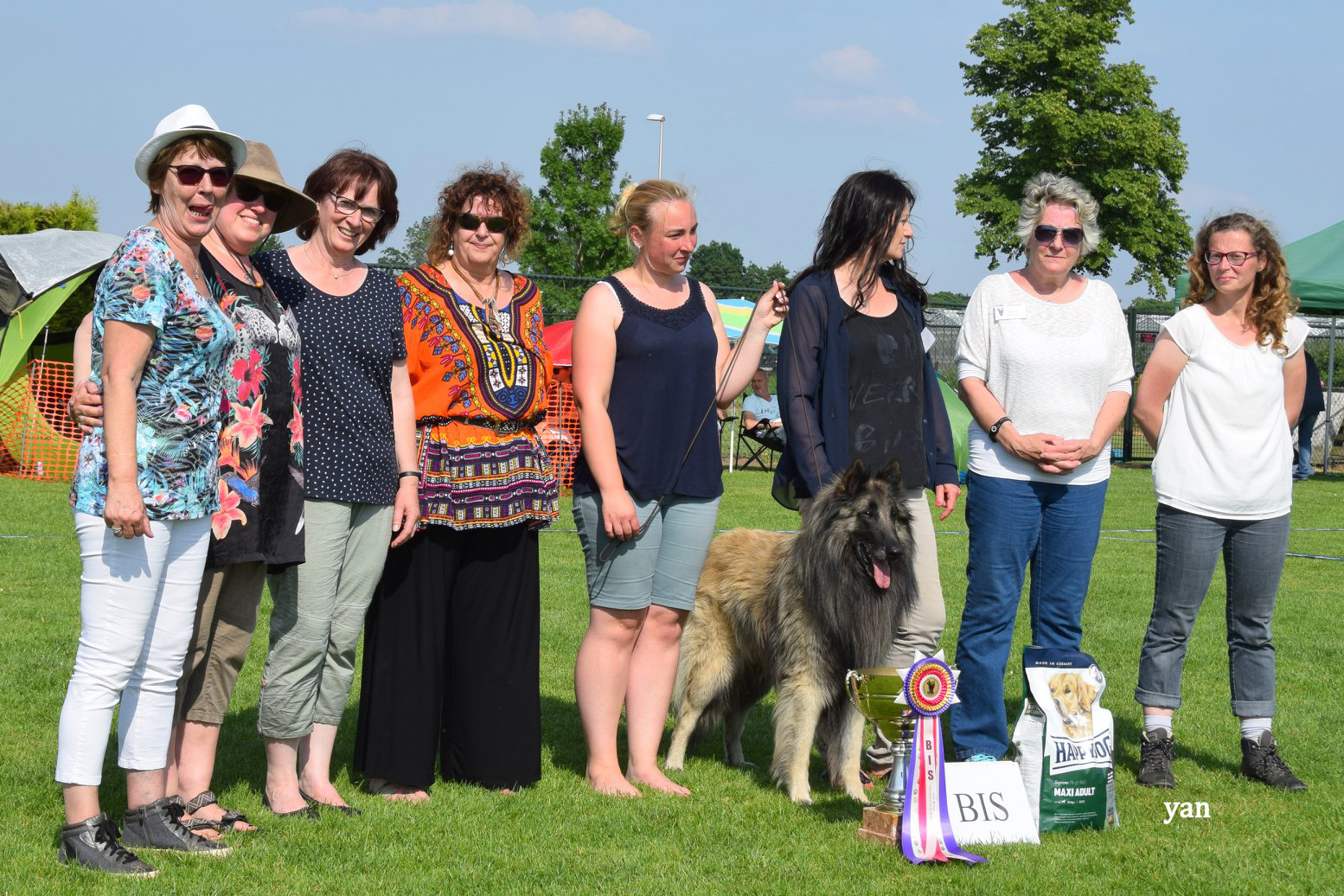 WHAT A DAY! Een hele warme maar ontzettende coole NVBH speciale 🙂 Het grootste succes van de dag was voor Rodin v. Moned die van de werkhondenklasse BEST IN SHOW werd met een aninieme stemming van de keurmeesters 🙂 De keurmeester voor de Tervueren reuen was Babs Robinson en de  best in show Kim Brown Pauline Koning-Stern Hanf Babs  Robinson en Béatrice Schwarzentruber! We zijn ontzettend trots aangezien we veel respect hebben voor deze keurmeesters 🙂 
WHAT A DAY! a very hot but super cool day at the NVBH specialty 🙂 The biggest succes of the day was for Rodin v. Moned who went from working class all the way to BEST IN SHOW with a unanimous vote from all the judges ! 😀 Many thanks to Edwin Stammis for showing Rodin and to ViVi Heyer for doing the end when both Edwin his Malinois and Rodin needed to be in the BIS ring 🙂 The judge for the terv males was Babs Robinson and the best in show Kim Brown Pauline Koning-Stern Hanf Babs ofcourse and Béatrice Schwarzentruber! We are so proud as we so highly respect the 3 judges I know 🙂 yes we are flying on cloud nine!! Huge thanks to Yannick Butez for the beautiful picture!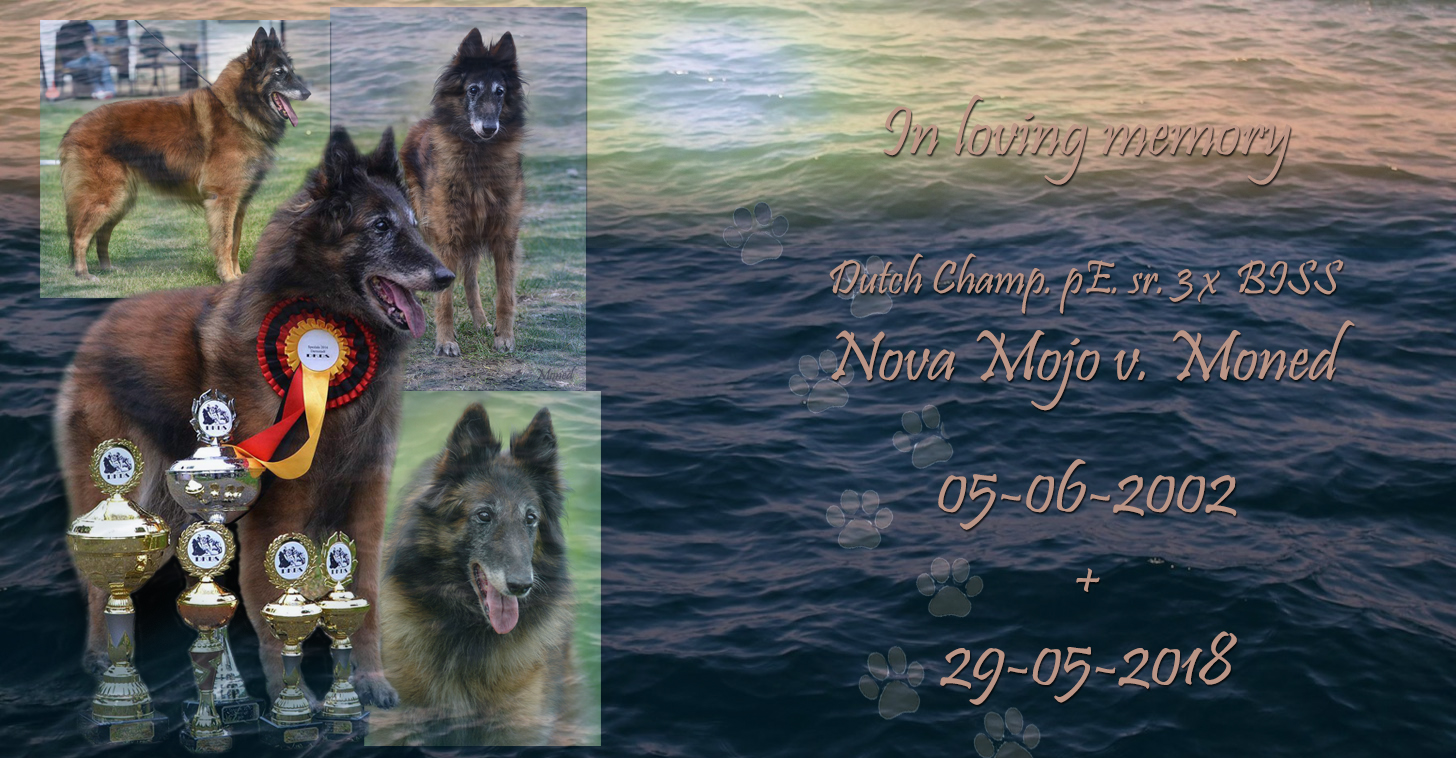 CHAMP. SR. PE 3x BISS NOVA VAN MONED (Kamp. pE Morgana v.d. Lamar x Sr. Joram du Clos de Jochnacke) 05-06-2002/ 28-05-2018
An era has ended…our super beloved, super beautiful, super special, and most of all my heart dog gave up living this morning..
Slowly fainting over the last weeks we couldn't do anything for her anymore….Our Nova is gone….one week before her 16th birthday…
I will terribly miss her beautiful black eyes and her always 'ready to rumble' attitude..
She is really gone…leaving a empty hole forever..
''This morning when you died..it torn my heart in two
One half fell to pieces and the other half died with you…''
We will never forget you, run free with your mom and sissy Ultra and your long lasting friend Kismet who just died a half year ago almost 17 years old..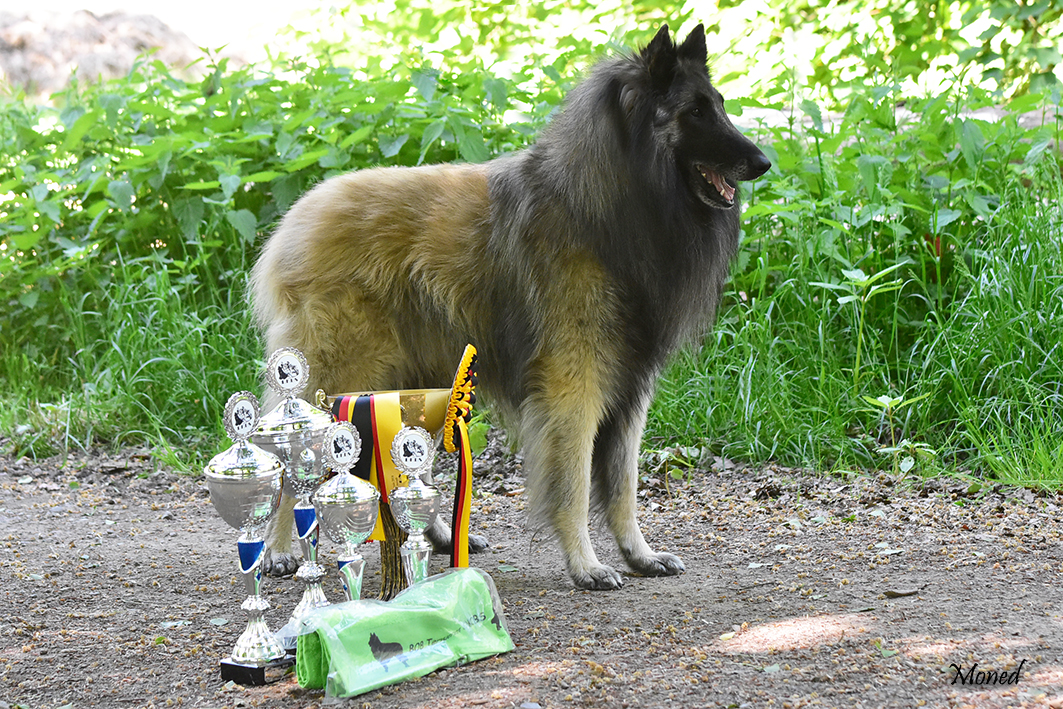 This year we visited the German specialty again like every year 🙂 We entered several dogs but the biggest succes on saturday was for Rodin v. Moned who won the working class, best male, best of breed and best working dog in show! On sunday it was the time to shine for the 9 year old Daiquiri v. Moned who went best of breed while entered in the veteran class! big congrats to her owners who were also very succesfull with Daiquiri her kids!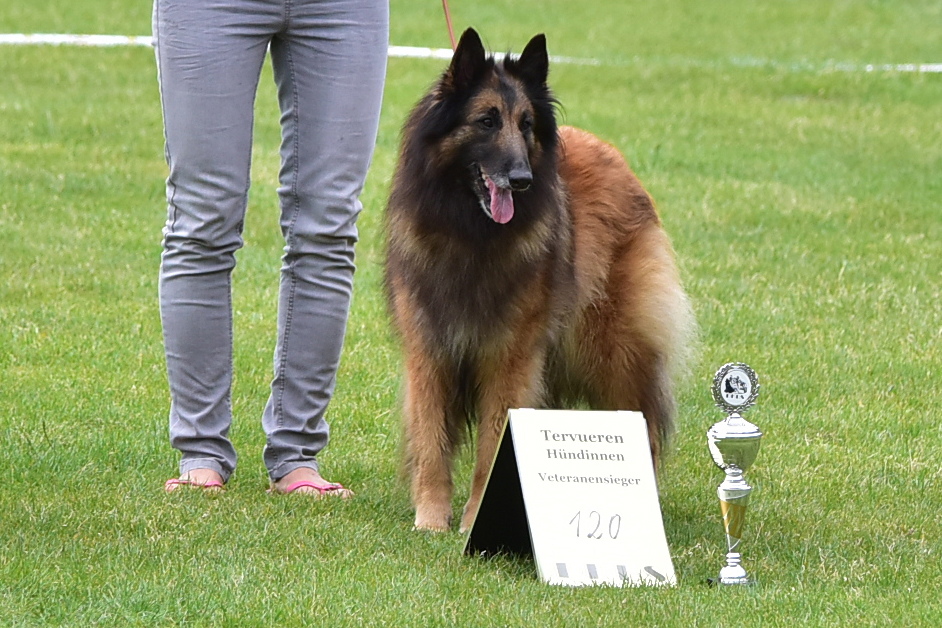 Afgelopen weekend zijn we weer afgereisd naar de Duitse speciale. We hadden enkele honden ingeschreven maar het grootste succes zaterdag was voor Rodin v. Moned die de werkhondenklasse won, vervolgens beste reu werd en uiteindelijk beste van het ras! Zondag was het Daiquiri v. Moned haar dag en werd ze Beste van het ras van de veteranenklasse aangezien ze al 9 jaar oud is! super gefeliciteerd voor haar eigenaren die ook met Daiquiri haar kids zeer succesvol waren.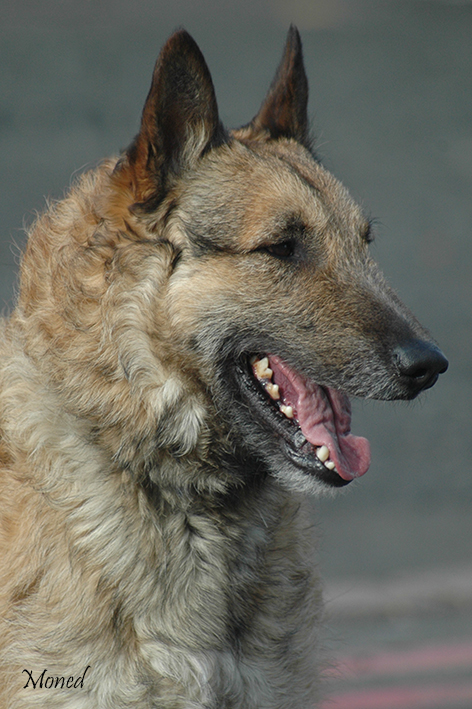 Afgelopen weekend is Everest v. Moned BEST IN SHOW geworden op de Italiaanse speciale! Zijn zuster werd 1e in de werkhondenklasse, kreeg het CAC en is nu Italiaans kampioen! Gefeliciteerd aan de eigenaren!
————————————
Last weekend Everest v. Moned won BEST IN SHOW at the Italian specialty!! His sister won her class, CAC and is now Italian champion! Congrats to the owners!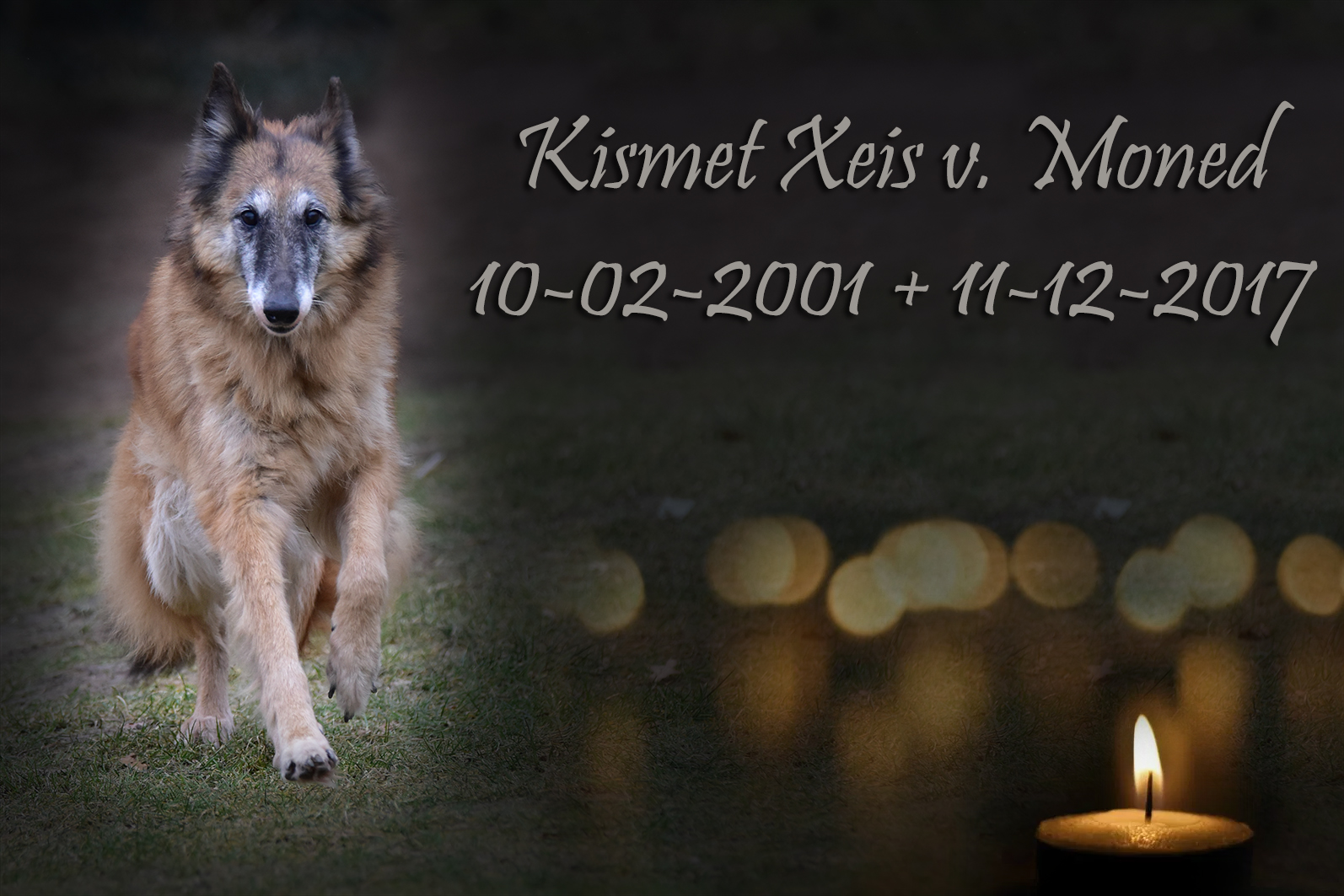 The 11th of december we had to let our golden oldie Kismet Xeis van Moned go over the rainbow bridge, a heartbreaking decision…
2 months shy of 17 years old her body just gave up…living in her own world, eating and walking around till the last day as she was so unbelievable strong..
This very unique girl, loved to run, always funny and crazy will always have a very special place in our hearts..being born on my own birthday out of a litter of 12 she was the best present ever
She came out of the combination Xeros v.d. Hoge Laer and Isis v.d. Lamar and had two litters with Shadow v.d. Schagerwaard en v.d. Pillendijk Darco.
Goodbye our dear Kismet run free!
Toendra has been on his first adult show at the Bundessieger show in Dortmund, both day's he got a lovely 1th place and the title Bundes jugend sieger & Autumn Jugend sieger! with this result he is now Crufts qualified 🙂 Toendra has lost all his coat so he will not be in shows for a while.. We might just bring him to Crufts with hopefully his new coat!
—————————
Toendra is op zijn eerste "volwassen" show geweest in Duitsland op de Bundessieger show, beide dagen haalde hij een mooie eerste plaats en de titel Bundes Jugend sieger & Herbst Jugend sieger. Met dit resultaat is hij gequalifiseerd voor Crufts 🙂 Helaas heeft Toendra nu zijn jeugd vacht verlopen.. Wie weet nemen we hem mee naar Engeland met hopelijk een nieuwe vacht 🙂
Rodin v. Moned heeft 2 erg goede weekende achter de rug, vorige week is hij geshowed in Dutsland en heeft hier zijn laatste 2 punten voor zijn Duits show Kampioenschap behaald! Dit weekend zijn we naar Heikant afgereist voor Rodin zijn eerste schapenhoud wedstrijd, hij heeft met succes de HWT test gehaald als eerste Tervueren in ons land! Met dit resultaat mag hij nu ook in de werkhonden klasse ingeschreven worden op show! we zijn super trots op deze veelzijdige hond!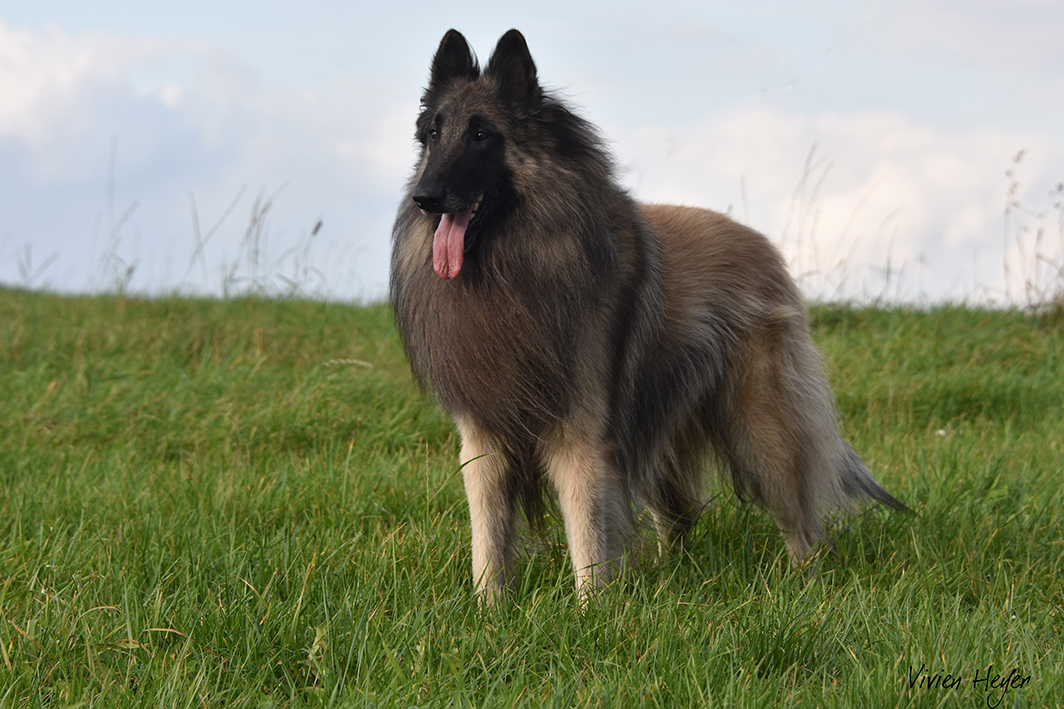 Rodin v. Moned has had 2 very nice weekend behind him. 2 weeks ago he was at the International dogshow in Dortmund where he got his last 2 points to compleet his German show Champion title! This weekend Rodin went to his first sheep herding competition and passed the HWT test as the first Tervueren in our country! With this result he can now be entered in working class at shows! We are very proud of this boy with beauty and brains 🙂
Ontzettend gefeliciteerd aan  "team Dekker" Linda Lester Davina Jones, Mark, Ollie met alweer een Beste van het ras voor Dekker (Champ. French Kiss v. Moned with Domburg) met dit keer als afronding een 2e plaats in een onzettende grote Pasterol groep! Er waren meer dan 650 dogs honden ingeschreven! De keurmeester voor het ras was Jane Willingham  en voor de groep Lynne Salt
Massive massive congrats to everyone on "team Dekker" Linda Lester Davina Jones, Mark, Ollie (and everyone else I forgot to mention) with another BOB for Dekker (Champ. French Kiss v. Moned with Domburg) and a second place in a huge Pastoral group today! There were over 650 dogs entered at least! The breed judge Jane Willingham and group judge Lynne Salt