Nieuws / News
——————————————————————–
01-04-2020
Nieuwe foto's van Semtex haar puppies! Kijk bij puppies / New picture's of Semtex her puppies! Look at puppies
——————————————————————–
Semtex is gedekt en zwanger van de prachtige Italiaanse Luavjans Himself! Het is niet alleen een prachtige hond maar heeft ook nog eens een zeer prettig karakter! De puppies worden midden Maart verwacht.

We are very excited to announce that Semtex has been bred and is pregnant by the stunning Italian male Luavjans Himself who is not only a beautiful dog but also has a very nice temperament! The puppies are expected middle of March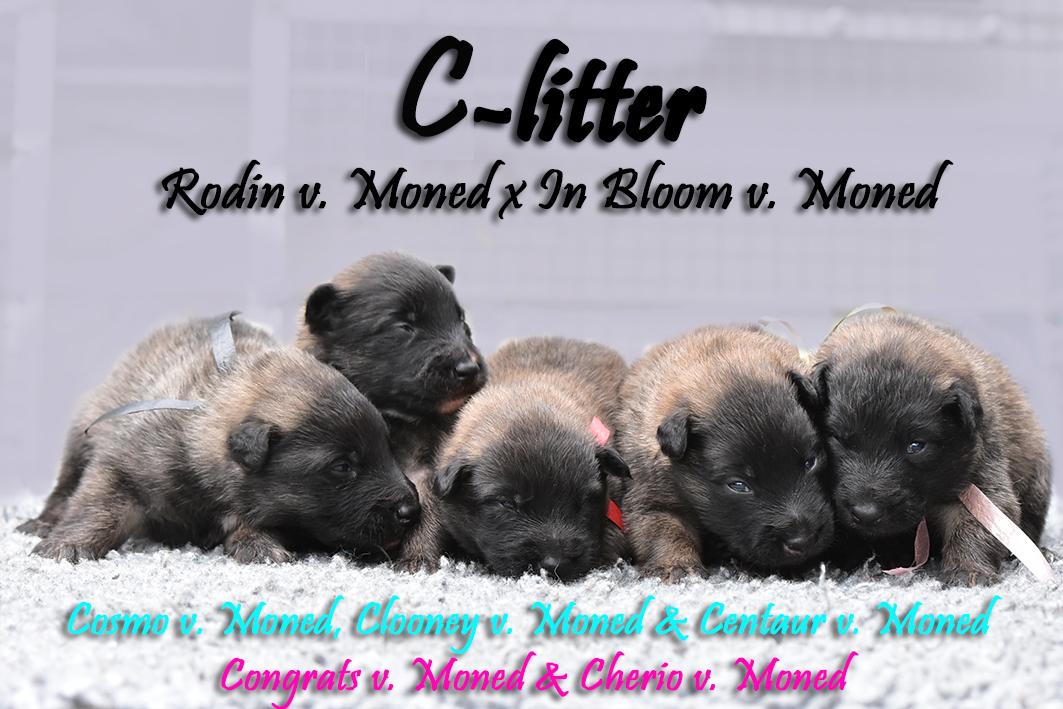 In Bloom haar puppies zijn geboren, voor meer foto's klik hier of kijk bij puppies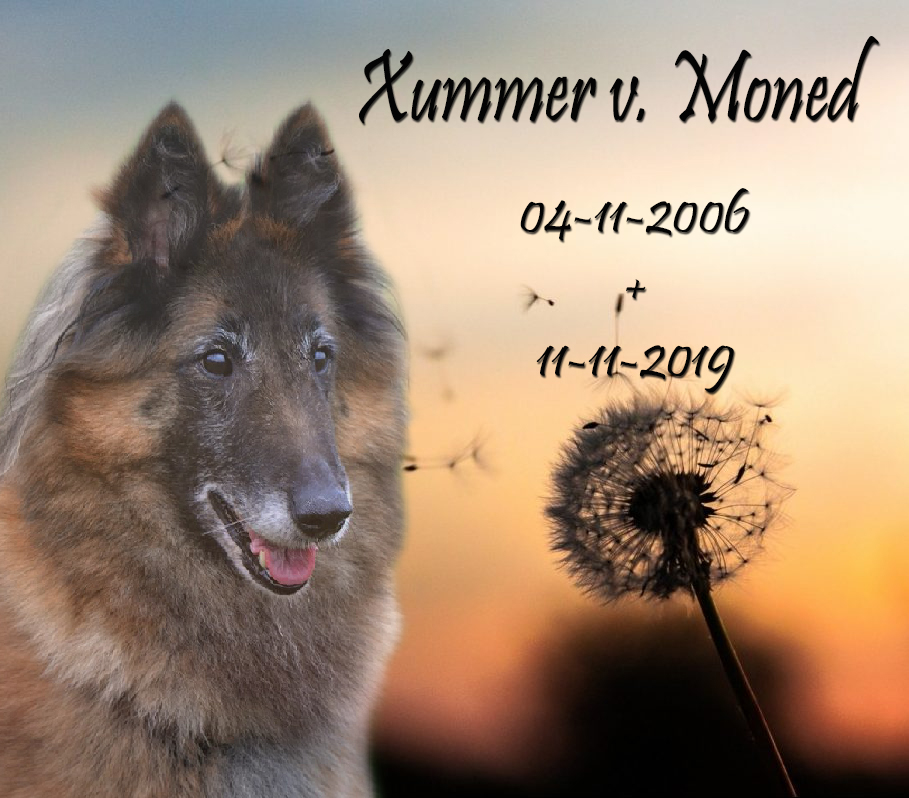 The 11th of November we lost our beautiful and beloved Xummer van Moned at the age of 13. Just before the weekend she lost strength in her hind legs, after vet treatment we hoped she would get better but she didn't. We only could make one decision and give her rest. We will never forget this girl coming back in our lives after her owner could not keep her anymore. She immediately touched our hearts and never left. Sweet girl rest in peace. Have fun with your mom and grandmother and wait for us.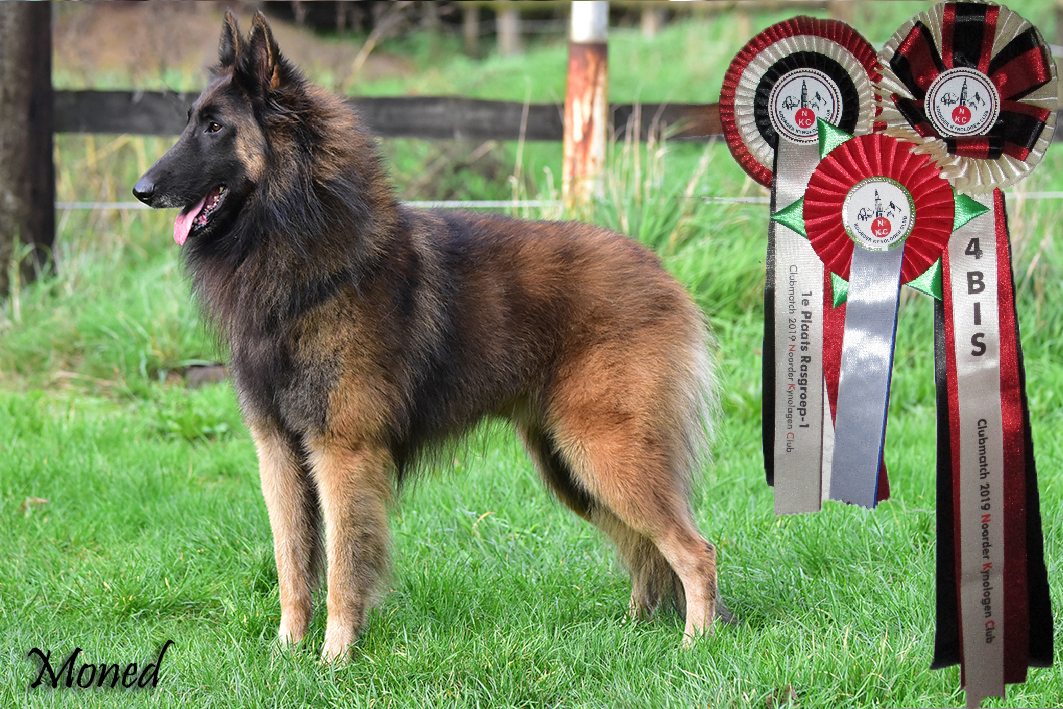 Afgelopen weekend was het tijd voor Toendra om weer eens te "oefenen" op de NKC in Groningen, het begon goed met beste reu en beste van het ras waarna hij door mocht naar de Herder ring. Daar werd hij Beste herder! (rasgroep 1) en uiteindelijk 4e best in show (meer dan 160 honden ingeschreven) Het was extra speciaal omdat hij deze keer door ons zelf geshowd werd!
This weekend it was time for Toendra to practise in the show ring at the NKC in Groningen, although out of coat he did his best by winning best male and best of breed, after that he needed to go to the group win and won the group!! after that BIS4! wow!! extra special as he was handled by ourself 🙂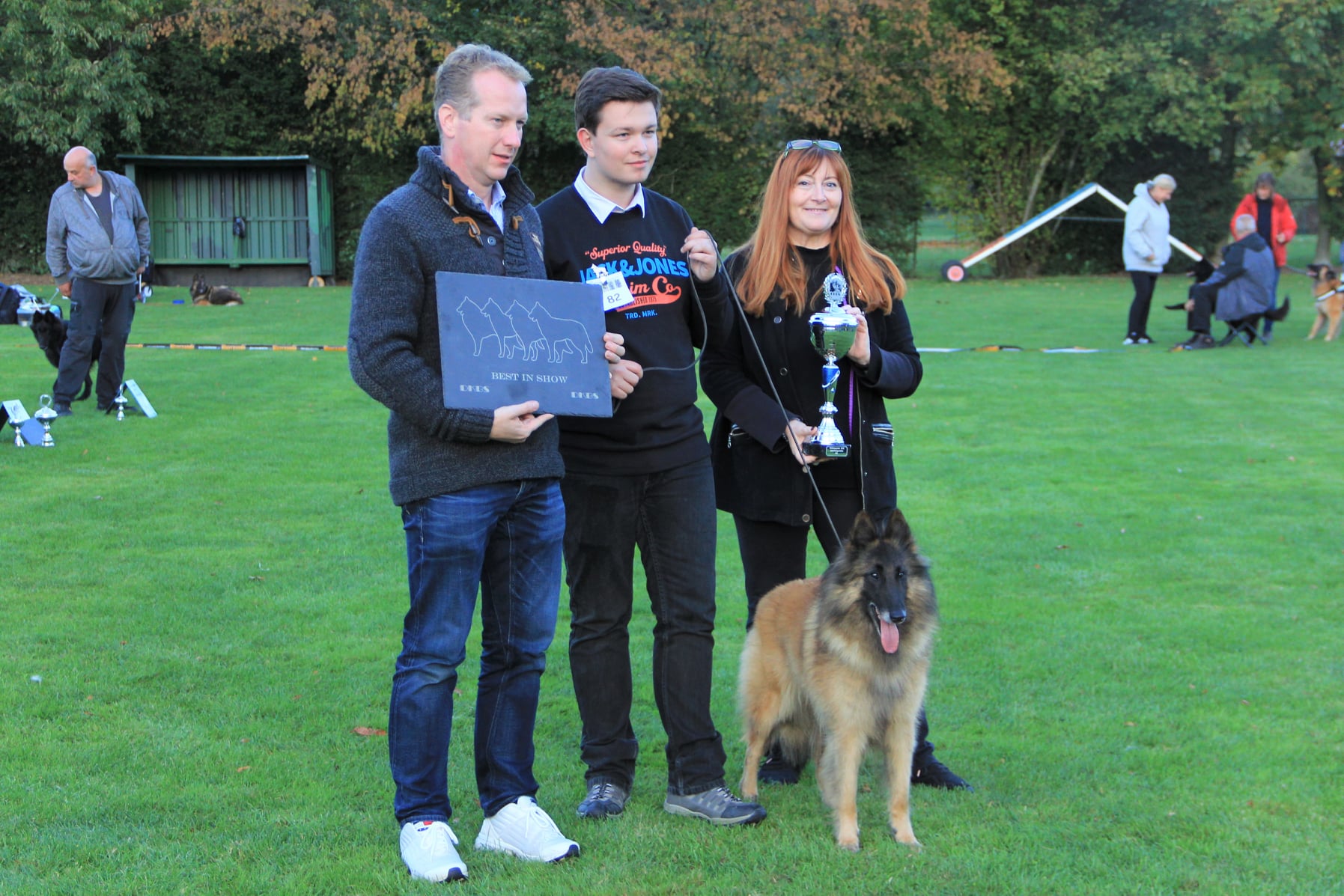 Wat een weekend! In Bloom v. Moned ging met ons op reis naar Duitsland om mee te doen aan de Advent speciale. Ze behaalde 1U in een klasse van 11 teven. daarna CAC, Bese Teef, Beste van het ras en uiteindelijk BEST IN SHOW! Meer dan 80 honden waren ingeschreven deze dag! De keurmeesters waren Tom Roozen en Isabella Thevenon. Handler Brendan Smit! Zeer bedankt allemaal en voor de vele complimenten van onze mooie meid!
What a weekend! In Bloom v. Moned went with us on a short trip to Germany to compleet at the Advent specialty!. She won a nice open class with 11 other females. She went on to win the CAC, Best female, Best of Breed and at the end BEST IN SHOW! There were more than 80 dogs entered this day! The judges were Tom Roozen and Isabella Thevenon. Handler Brendan Smit! Many thanks to the judges, handler and competitors for the nice comments on our beautiful girl!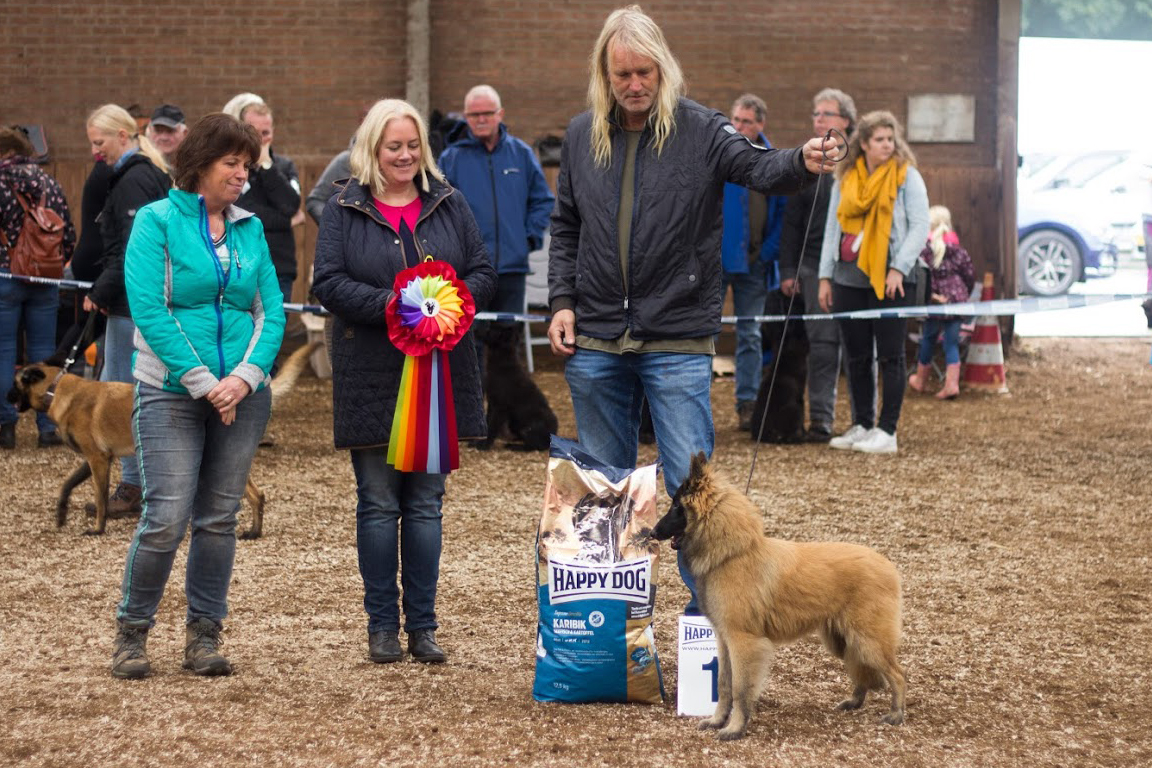 Dit weekend waren ook de 1e 2 shows van 1 van onze jongste meiden, Applause v. Moned. Zaterdag was ze ook mee naar Duitsland en behaalde een mooie 1e plaats (Er werd geen beste pup gekozen) Op zondag ging ze mee naar de Jongehondne en veteranen dag van de NVBH, altijd een leuke show om eens te oefenen! Applause deed zeer goed haar beste, won haar klasse, versloeg later de reu van dezelfde leeftijd en werd vervolgende Beste puppy in show! Wat een goede start :-). The judges of this day were Rachel Dijkhorst-Noij & Claudia van Mil – van Buuren, 2 new Belgian judges!
This weekend was also the first show for one of the youngest members of our family Applause v. Moned. On Saterday she also came with us to Germany and got a nice first place (No BIS puppy was choosen) On sunday she came with us to the Dutch Young and Old dog day of the NVBH. Always a nice show to visit and for young dogs to learn how it works. Applause was a very good girl, she won her class, than beat the male and ended up Best puppy in show! What a way to start! Judges of this day were Rachel Dijkhorst-Noij & Claudia van Mil – van Buuren , 2 new judges for the Belgian Shepherds..
Het nest van Toendra x IJssel is geboren op 13-07-2019! 2 reutjes en 5 teefjes alle prachtig van kleur! Moeder en puppies maken het goed! We hebben nog enkele puppies beschikbaar! Voor meer foto's klik hier of kijk bij puppies
The litter of Toendra x IJssel is born on 13-07-2019! 2 boy's and 5 girls with lovely deep red color! Puppies and mom are doing great! We still have some puppies available. For more information click here ore look at puppies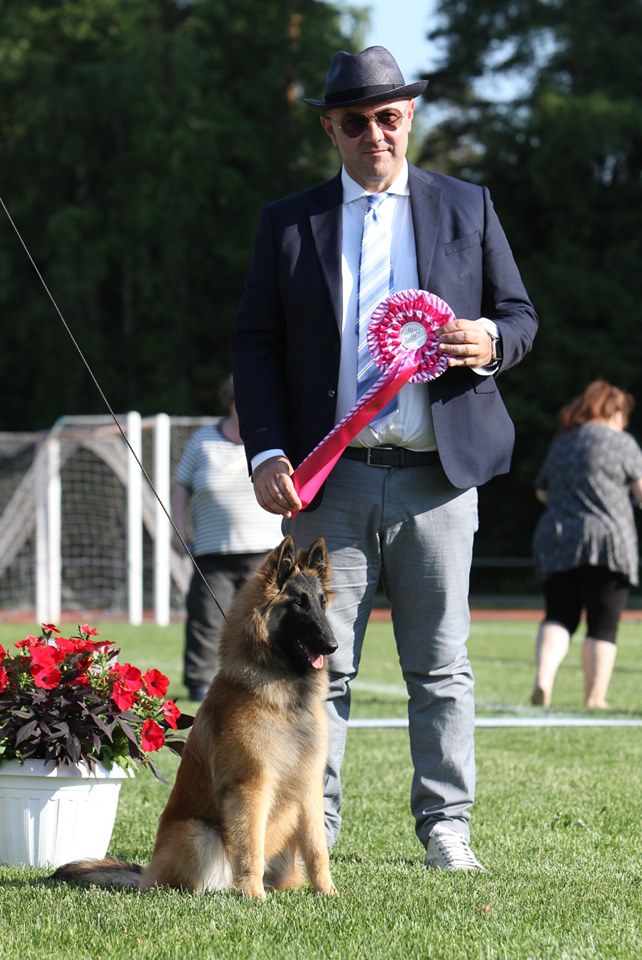 Daffodill v. Moned Best puppy in show op de Finse speciale!! Super gefeliciteerd aan de eigenaren
Dafodill v. Moned Best puppy in show at the Finish specialty! Huge congrats to the owner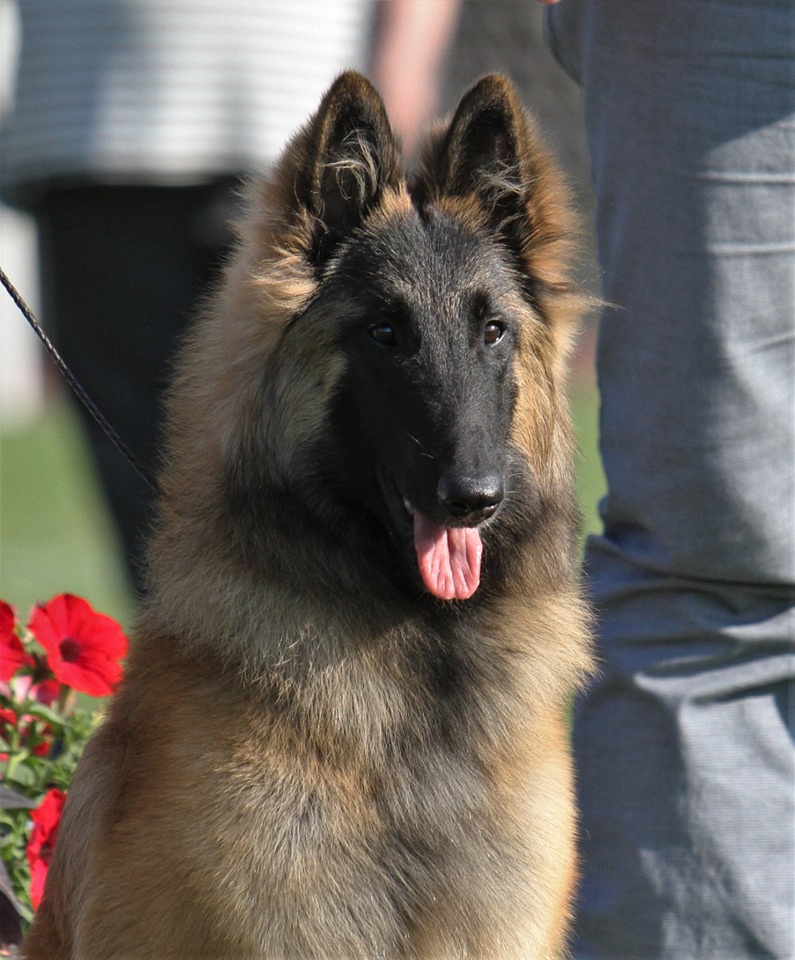 We hebben een geweldig weekend in Finland op de Finse speciale, na een lange reis per auto en vliegtuig behaalde Semtex v. Moned  2e best in show van 300 honden! Ook de kleine Daffodile v. Moned deed het super en werd Best puppy in show!
/
We had a super weekend in Finland at the specialty, after a long trip by car and plaine Semtex v. Moned  went all the way to Best in show 2 from 300 dogs! Also little Daffodile did super with Best puppy in show!
Puppies verwacht midden july / Puppies expected in the middle of July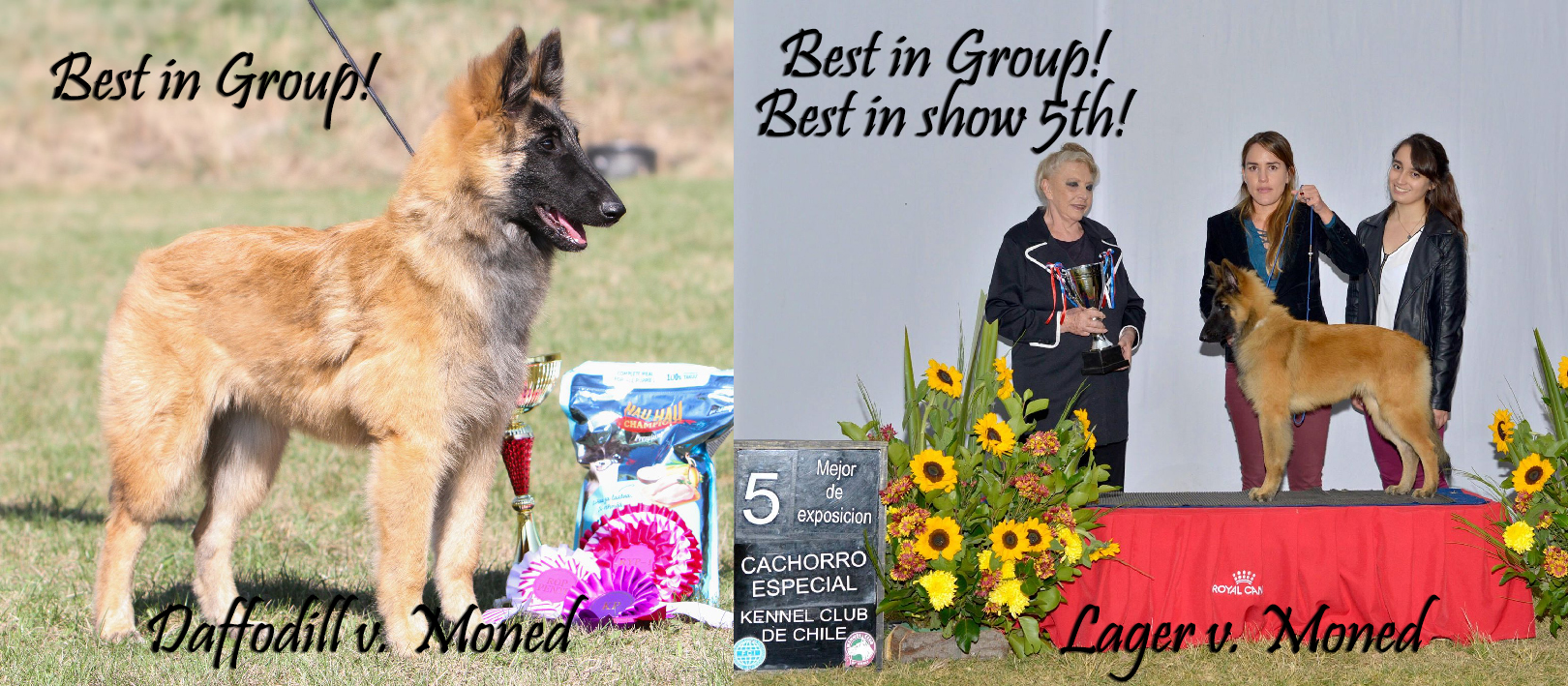 We willen onze puppies van het Yellow nest feliciteren met de volgende resultaten:
Daffodill v. Moned "Finland" 2 weken geleden: 2e beste baby in show (74 pups ingeschreven). Dit wekend: 1e beste in de groep. Gefeliciteerd Annette!
Lager v. Moned "Chilli" Saterdag 2e beste in groep. Zondag 1e beste in groep en 5e best in show! Gefeliciteerd Danielle & Javier
We want to congrat our Yellow litter with the following results:
Daffodill v. Moned  "Finland" 2 weeks ago: 2th best baby in show (74 puppies entered). This weekend best in groep 1 Congrats Annette
Lager v. Moned "Chili" Saterday 2th best in group and Sunday Best in group 1 and 5th best in show! Congrats Daniella and Javier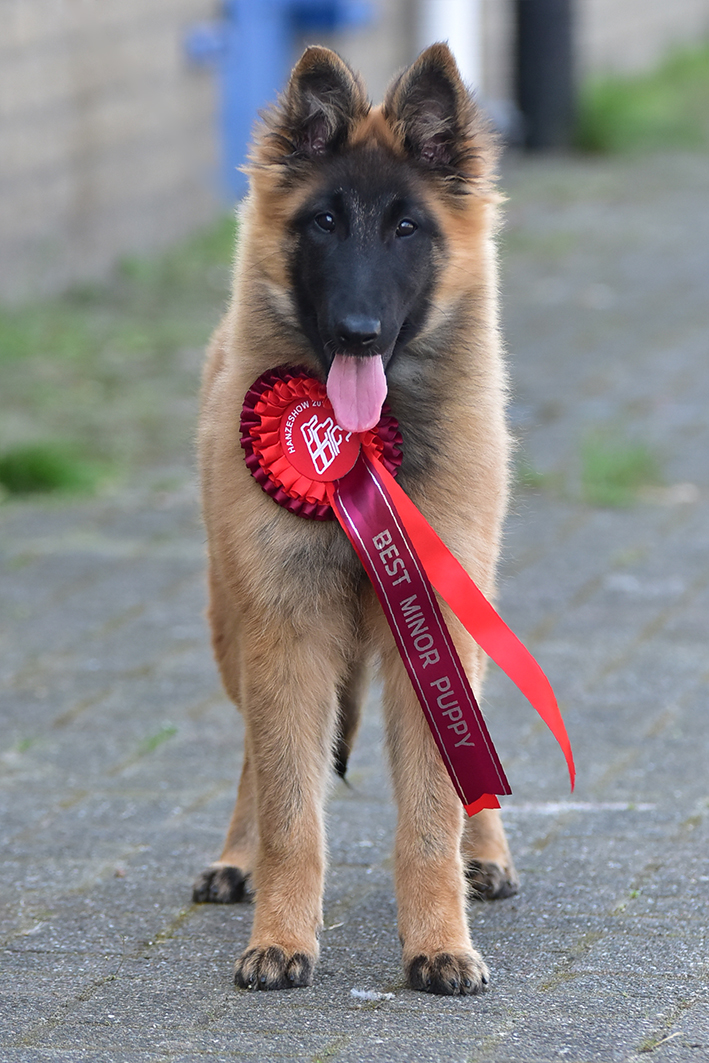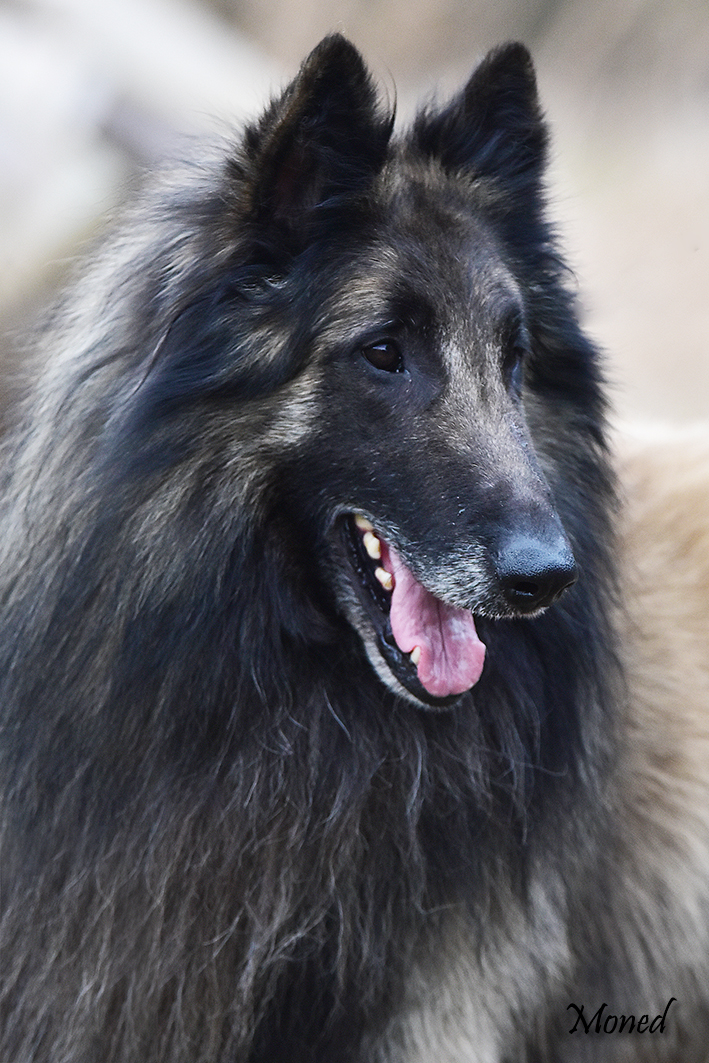 Hoewel er niet zo veel updates komen op de nieuws pagina is het erg druk bij ons! De kleine "A's" groeien hard net zoals de kleine Laekentjes die al weer 5 weken zijn geworden afgelopen weekend! 
We zijn dit weekend naar de Internationale tentoonstelling in Zwolle geweest en de honden hebben daar weer enkele super resultaten gehaald. Rodin heeft zijn laatste punt voor zijn Nederlands Kampioenchap gehaald! Ook Semtex behaalde haar laatste punt, helaas is ze nog te jong dus moet ze nogmaals naar de show als ze 24 maanden is geweest. Maar onze nieuwe hoop voor de toekomst Cheese v. Moned deed het super goed aangezien zij alle babies van de tentoonstelling versloeg en op het podium naast bordje 1 plaats mocht nemen! We zijn zo ontzettend trots dat de kleine meid zo stoer door de ring heen wandelde of ze het iedere dag deed 🙂
Semtex is ook officieel gerontgend en heeft perfecte heupen (HD-A) en elleboven (ED-0/0)!!
Even though not many updates we are crazy buzy at Moned, The little "A's" are growing fast and passed the 3 weeks mark this weekend! also the little Laekens are 5 weeks now and are getting very very cute! 
This weekend we went to the International allbreed show in Zwolle. Our dogs had some amazing results! Rodin got his last point for his Dutch championship! Also Semtex v. Moned got her last point for her championship, sadly she is still to young so needs 1 more small win after the age of 2 years. The big surprise of all was our young hope for the future Cheese v. Moned who beat all the baby's at the show and took 1th place on the huge stage! We are so very proud that she handled everything like she did it for years! such a brave little girl 🙂
Semtex has been officially x-rayed, Perfect hips (HD-A) and perfect elbows (ED-0/0)!!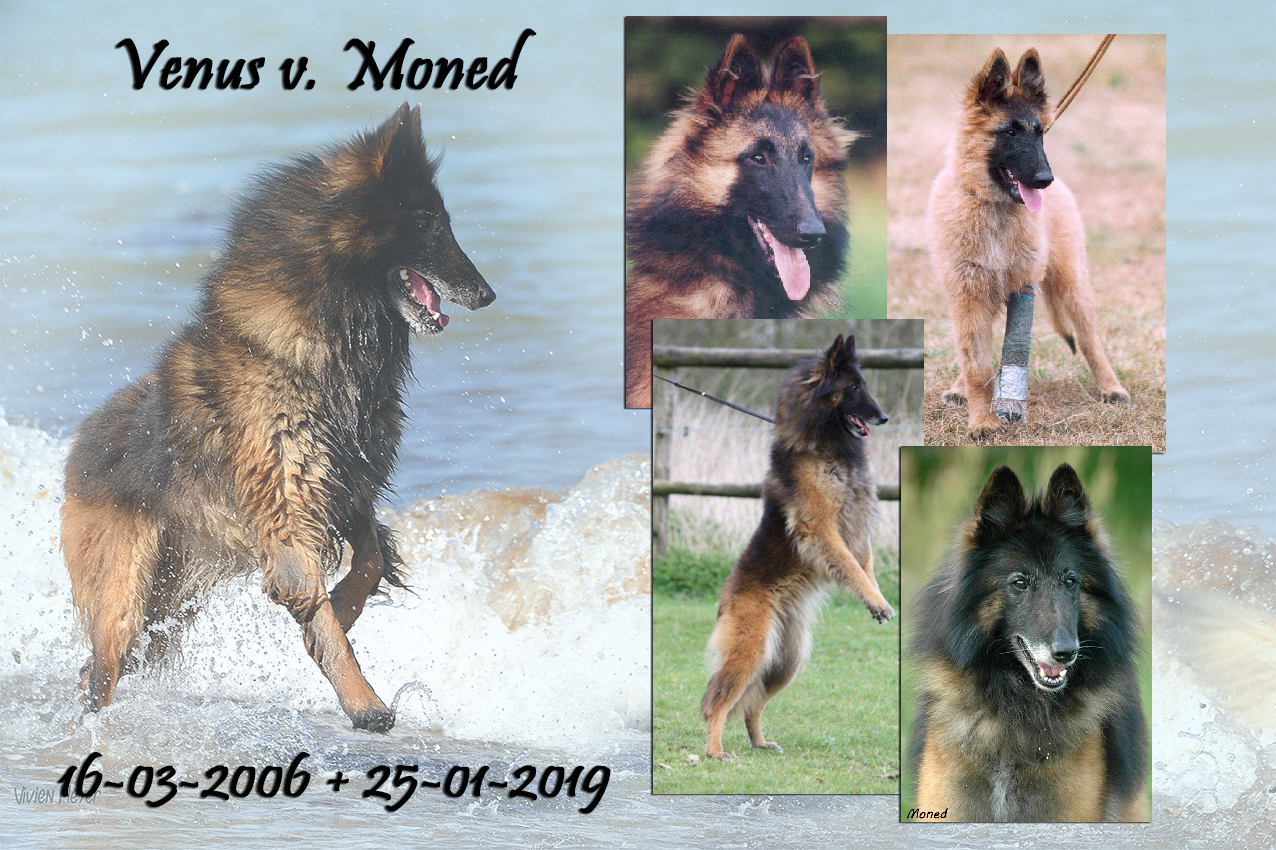 Yesterday we said goodbye to our little, brave, crazy girl Venus van Moned
She lived her life at full speed, always running, full of energy and looking if she could cause any trouble
Last month she started to become depressed and did not enjoy life anymore
last few days not only her mind gave up but also her body…we had to make the tough decision to let her go..
Her daughter Tulip will fullfill her legacy and her two grand daughters Semtex and Cheese will always remind us of her
Venus never had a show career due to 2 severe injuries at very young age but her beauty was undeniable..
Venus run free and have fun chasing the cats at the rainbow bridge.. 16-03-2006 + 25-01-2019
——————————————————————