Nieuws / News
——————————————————————–
06-09-2023
——————————————————————–
We hebben enkele kittens en herplaats Bengalen beschikbaar
——————————————————————–

GEPLAATST!
Op dit moment hebben we 1 teefje in de herplaatsing geboren op 20-04-2022. Giërra is een grijze Tervueren die wij terug hebben gekregen omdat ze wat problemen gaf bij de vorige eigenaar. Giërra is een bezige bei en is graag actief wat resulteert in trekken aan de riem. Bij ons gaat het vrij goed en is het ergste trekken al verholpen. Giërra kreeg ineens moeite met alleen thuis blijven terwijl er ook een andere hond is het gezin was, dit resulteerde in blaffen als de eigenaar weg was en boze buren… Giërra is een vrolijke hond die graag aandacht en knuffels wil, ze is vriendjes met alles en iedereen. Ze is heel vriendelijk en zachtaardig naar andere honden en komt bij vreemde mensen normaal gesproken meteen kijken. Ze luistert goed naar haar naam en kan dus prima loslopen. Ze is rustig en ontspannen in de auto. Met katten is ze ook goed zolang ze niet wegrennen. We zoeken voor Giërra mensen die ervaring hebben met Belgen, een andere hond in huis zou een grote + zijn, ook is het belangrijk dat mensen wat meer buitenaf wonen zodat als ze lawaai gaat maken bij weggaan dat er geen problemen ontstaan met de buren. Ook zou het fijn zijn als de nieuwe eigenaren iets met haar gaan doen, ze is namelijk erg slim en wil het graag goed doen
Edit is bevallen op 16-07-2023, 3 reutjes en 4 teefjes (Nog 1 teefje beschikbaar) meer info kijk bij puppies

/ 
Edit has delivered her babies on 16-07-2023, 3 males and 4 females (1 female available) more info look at puppies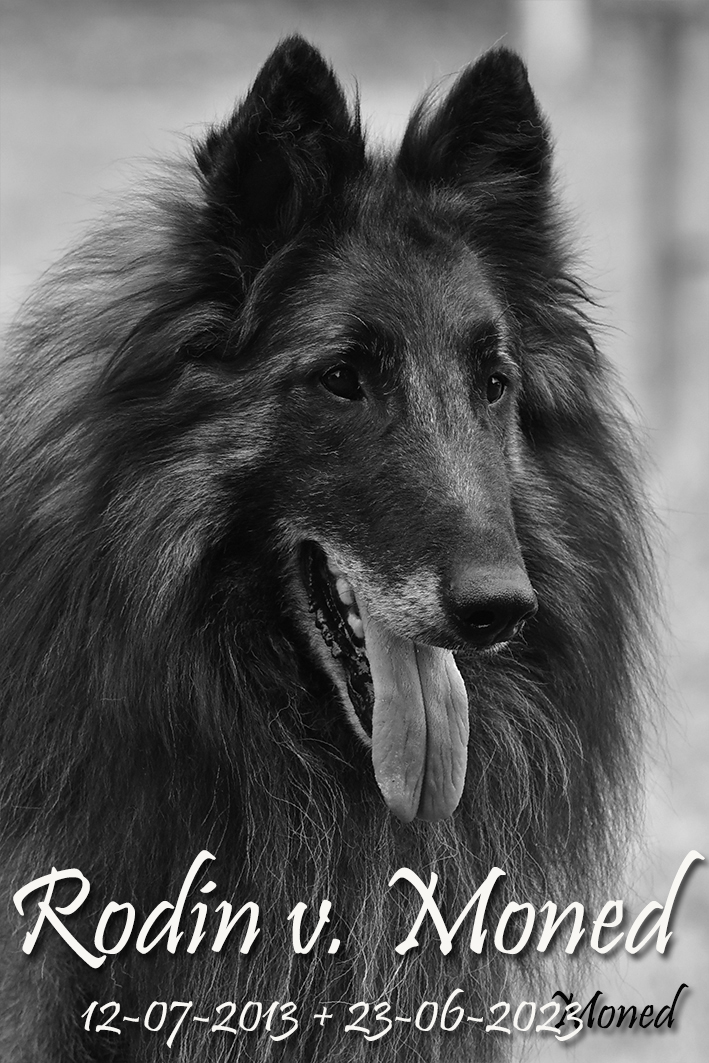 The legend, my legend is no more.. friday morning he was not his normal self, quiet, drooling a bit, and his belly was bigger than normal. I decided to take him with me to my work to keep a eye on him and to make x-ray, my worsed nightmare got true, on the xray a torsian of the stomach was visable, we rushed him into surgery and fought for his life for hours but it was not enough, 2 hours after the surgery he passed way. Rodin was a amazing dog, a dog who was my perfect package. All the people who knew him knew how special he was, how special he was to me. The hole is my heart is already so big but he made it even bigger. It is still hard to believe he is not with me anymore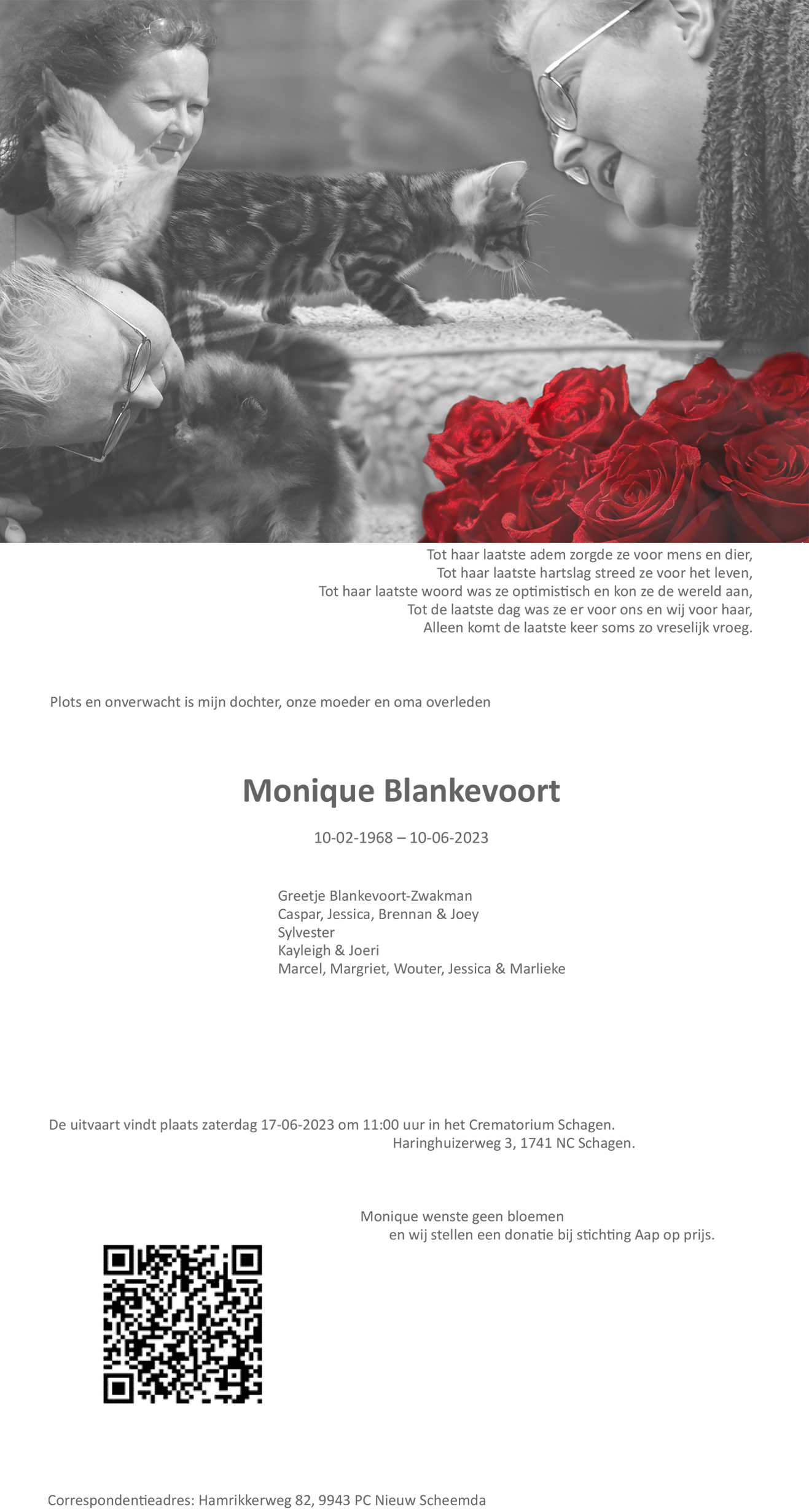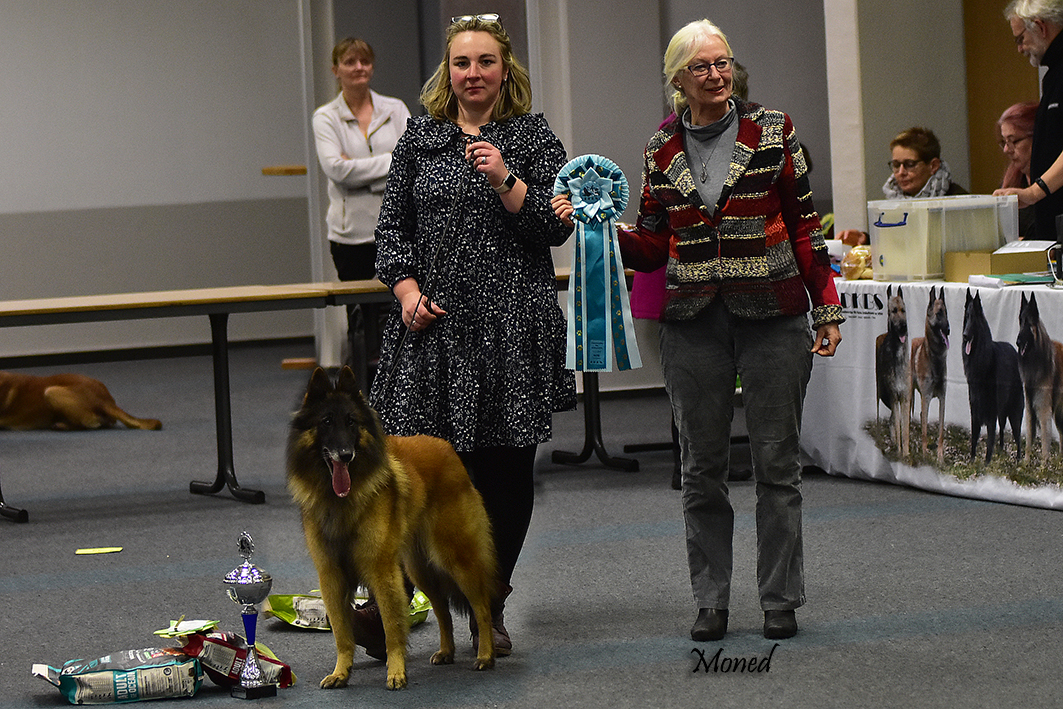 Yesterday we were present at the DKBS Advent treffe specialty show for Belgians. In Bloom v.vMoned "Tulip" was entered in veteran class. She was the only veteran so won her class, than she won best female, Best of breed and eventualy BEST IN SHOW! We are very proud of our "oldie" and her 3th specialty best in show! Thanks to Vivi for showing her and to the judge Wilma Roem for picking her out. fun fact: 7 years ago Wilma gave Tulip her grandmother best in show from veteran class 🙂
Op 19-11-2022 zijn er 4 prachtige puppies geboren van Fandango x Applause. 2 reutjes genaamd Helium en Hoax, en 2 teefjes Hashtag en Hydaia. Ondertussen zijn er al 2 puppies vertrokken, Helium blijft nog even voor hij naar het buitenland mag, Hydaia blijft bij ons. 1000 maal dank aan Fons en Marlies dat we een nestje mochten fokken met Applause!
—————————-
On 19-11-2022 4 beautiful babies were born from Fandango x Applause, 2 males named Helium and Hoax and 2 females Hashtag and Hydaia. Helium will stay till he is allowed to go abroad, Hydaia will stay wih us. Many many thanks to Fons and Marlies that we were allowed to breed a litter with Applause!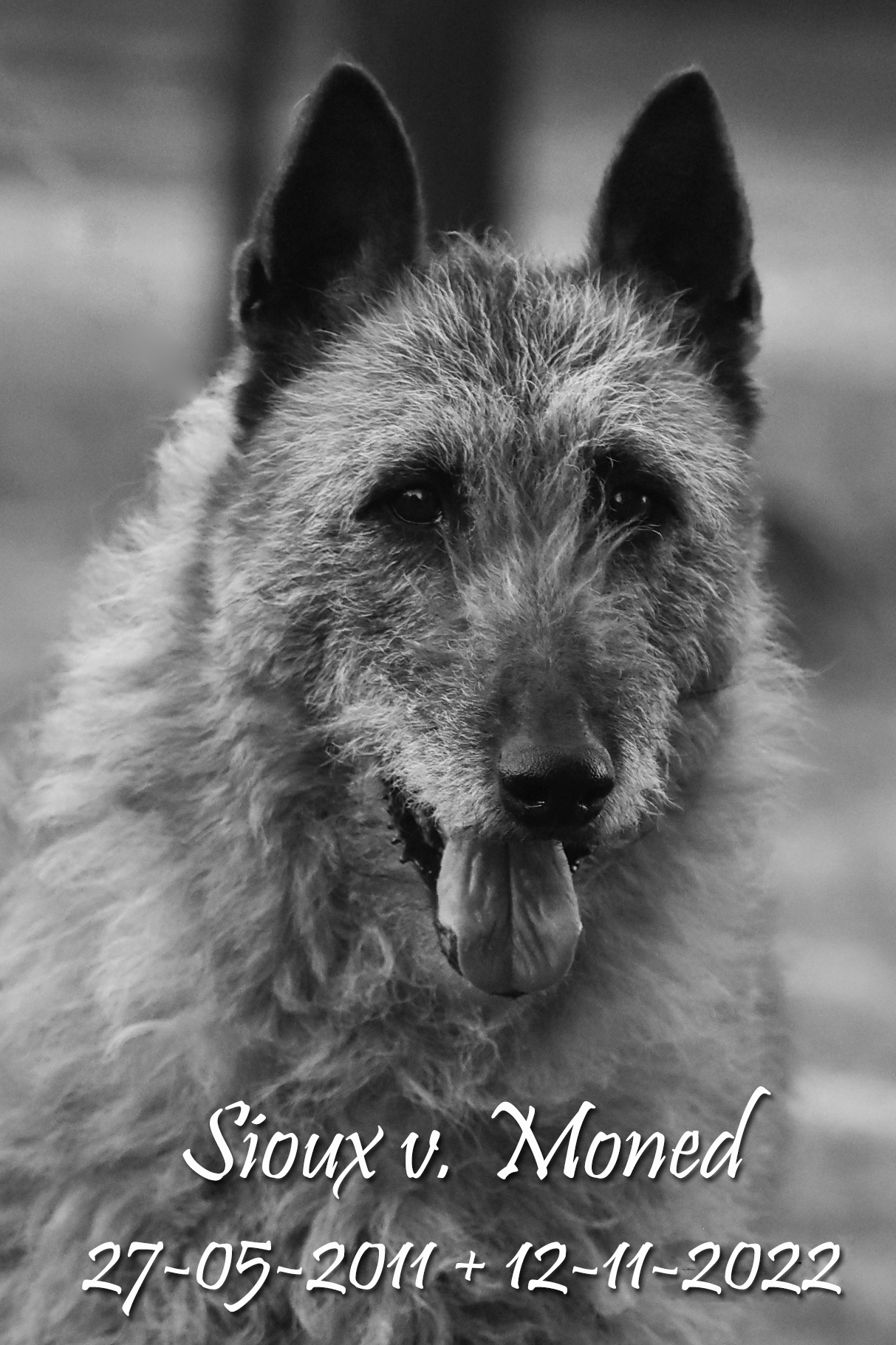 Sioux v. Moned
27-05-2011 – 12-11-2022
On the 12th of November I had to make one of the hardest dissisions to let my Sioux go to safe her from further suffering. It is a post every dog owner is afraid to wright and sadly for me it came after only 11,5 years. Sioux was a incredable dog in every way. a superb temperament, looks and health till she got sick in April. We could stabalize her but sadly 2 weeks before her passing she stopped eating and got weaker by the day.. we found a tumor in her anal glands and in her abdomen. We tried to make her comfortable but she decined very rapidly. People who knew this dog knew what a special one she was and mostly how special she was to me. I still look behind me now and than to see if she is there but sadly she is not. it is still hard to believe and to cope with. RIP my girl. if there is someone up there they are damn lucky to have you by there side.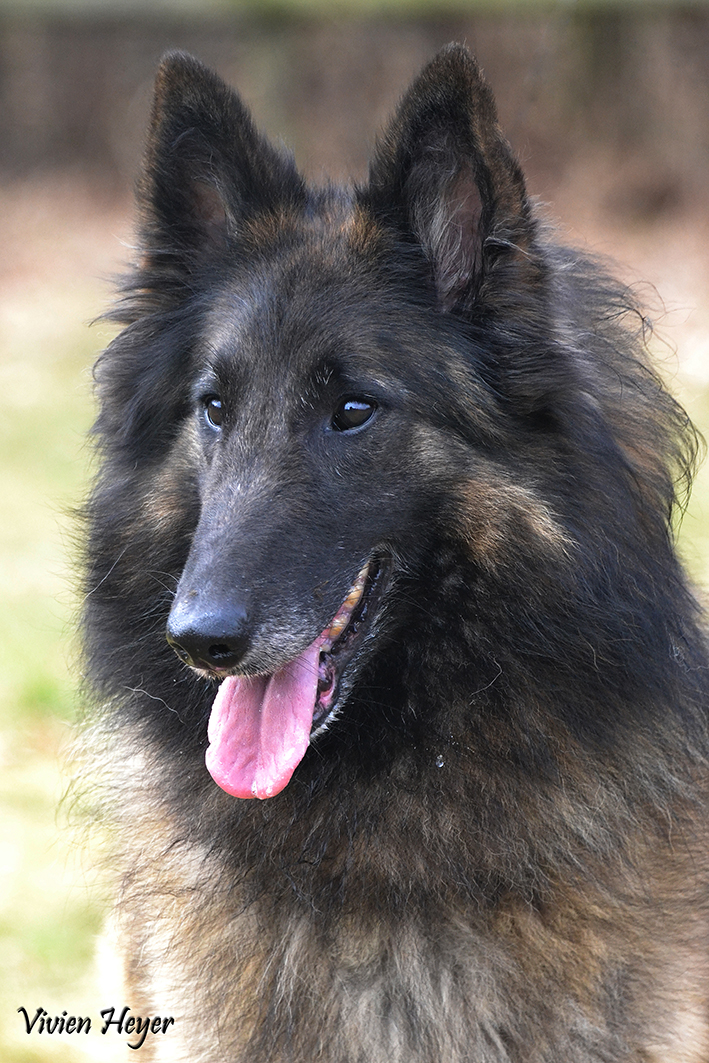 Blow me a Kiss v. Moned
17-02-2012 – 05-12-2022
10,5 years ago this dog was born a beauty from the start and she knew it. Never liked to show and even though she was happy with us we knew one day she needed a person for her own. 7,5 years later we found this person. after John lost "our" Niavana Aristocrat he was looking for a new dog and even though we hoped they would love eachother as we loved Fling we could not have hoped Fling truly LOVED John and would never look back. It breaks our heart they only had 3 years together. Half a year ago Joh noticed flat stool and after investigation we found a tumor in her anal glands and a huge tumor in her abdomen. We knew the only thing we could do is wait and make her comfortable. She lived another 6 months till she showed it was enough. John had to make the hardest decision to let her go. We want to send a huge thank you for taking such good care of our girl, you both sure were a match made in heaven.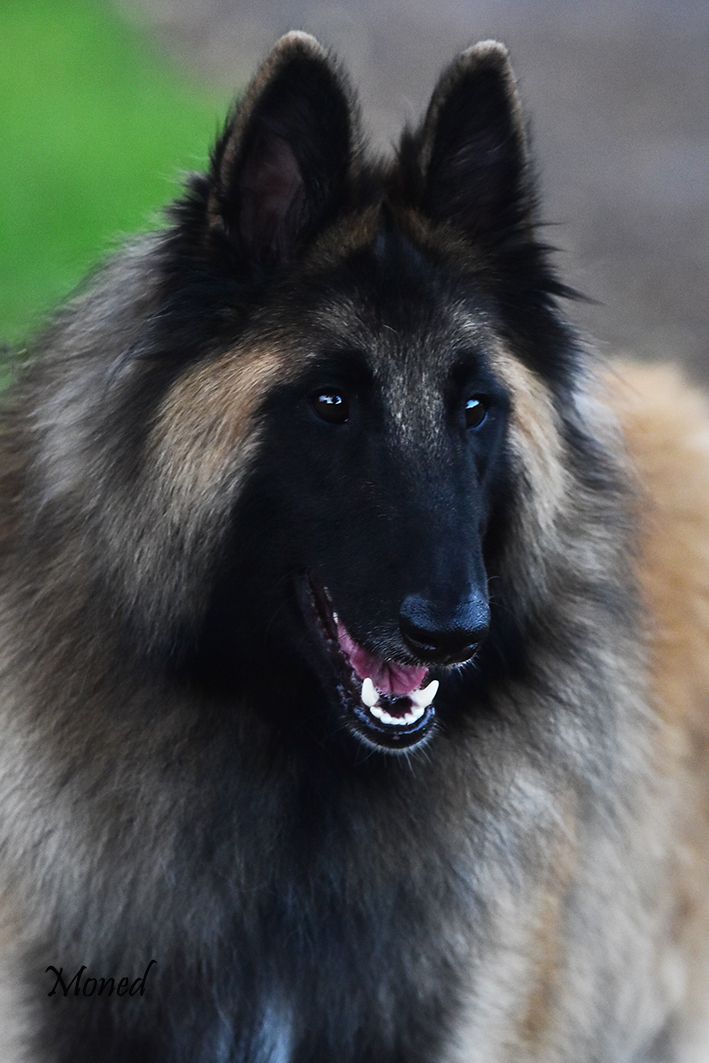 HERPLAATSING: 1 jr 3 maanden oude Tervuerense herder reu beschikbaar niet gecastreerd komt bij ons terug. Het is een zachtaardige hond die een duidelijke baas nodig heeft die de hond met zachte hand duidelijk maakt wat de bedoeling is. Flabio komt bij ons terug door persoonlijke omstandigheden van de baas er is dus niks mis met deze leuke hond. Deze hond is niet voor de show, hij mist een stukje van zijn staart (is als 3 weken oude pup gebeurt) Hij heeft er geen last van maar dit maakt het showen lastig.
Mail voor meer info: vanmoned@hotmail.com
(GERESERVEERD!)
Tulip is bevallen! voor meer info kijk bij Puppies
Tulip delivered her puppies! for more info look at puppies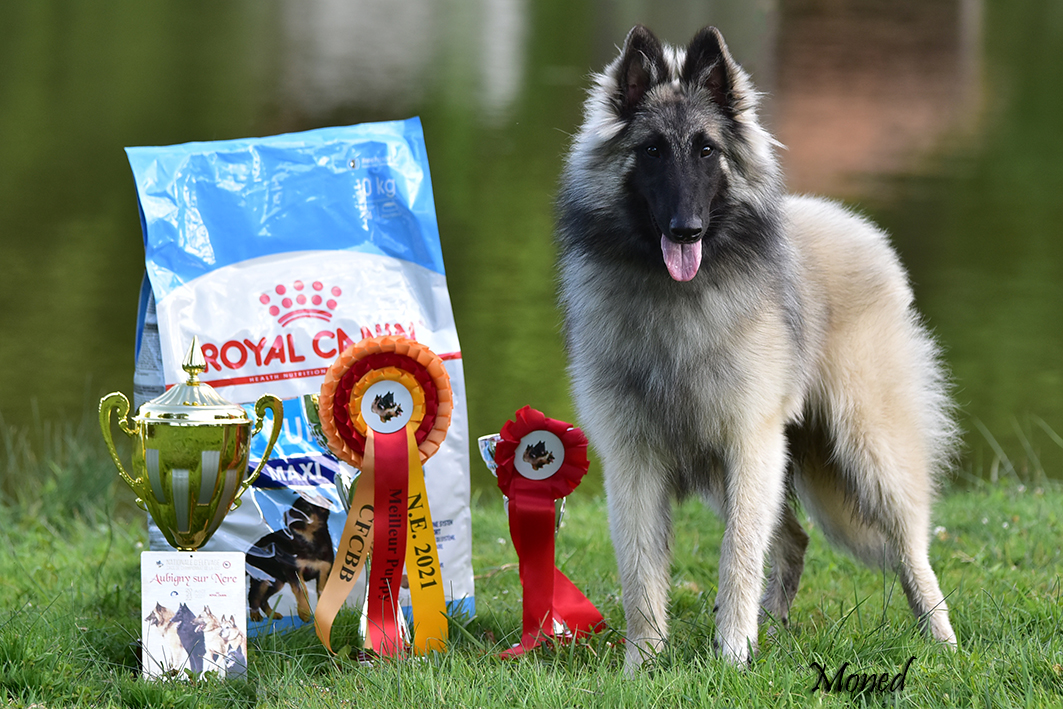 Little Edit v. Moned went with us to the French specialty this weekend and did very well. She ended up best puppy in show! We are very proud of this result as there was a big amount of beautiful Belgian Shepherd puppies entered!
Dit weekend zijn we naar de Franse speciale geweest, we hebben kleine Edit mee genomen en zijn erg trots dat ze Beste pup van het weekend werd! De grootste show van de wereld voor de Belgen dus we zijn erg trots!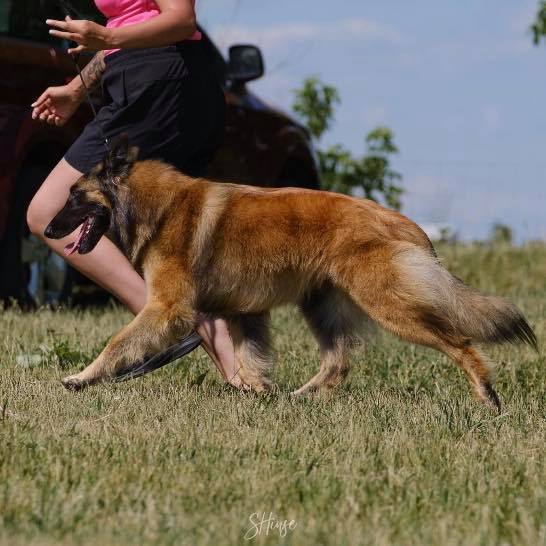 Lemon v. Moned is afgelopen weekend in 1 weekend Canadees kampion geworden! wat een prestatie voor zo'n jonge hond! ontzettend gefeliciteerd voor haar eigenaar Isabelle Dube voor dit fantastische resultaat!
\
Lemon v. Moned earned enough points in 1 weekend to be a Canadion champion! what a great job for such a young dog! Huge contract to her owner Isabelle Dube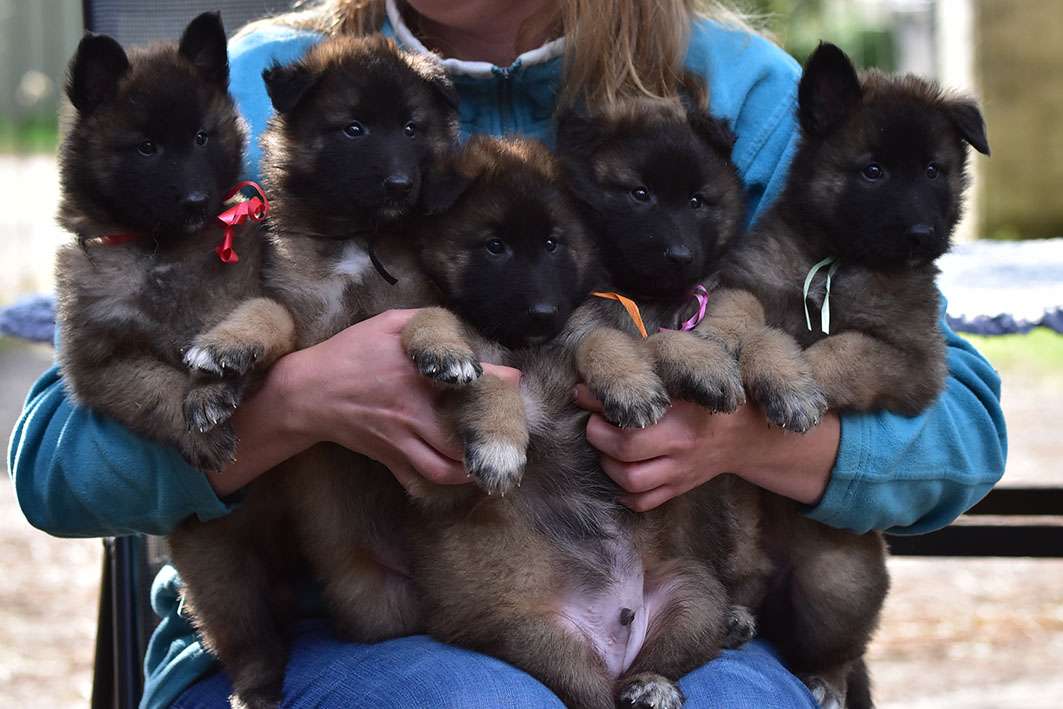 Ons F-nest zijn vertrokken naar hun nieuwe baasjes, kleine Foetsie blijft bij ons om ons team te versterken! 
/
Our F-litter left to there new homes. Little Foetsie will stay with us
————————————————————-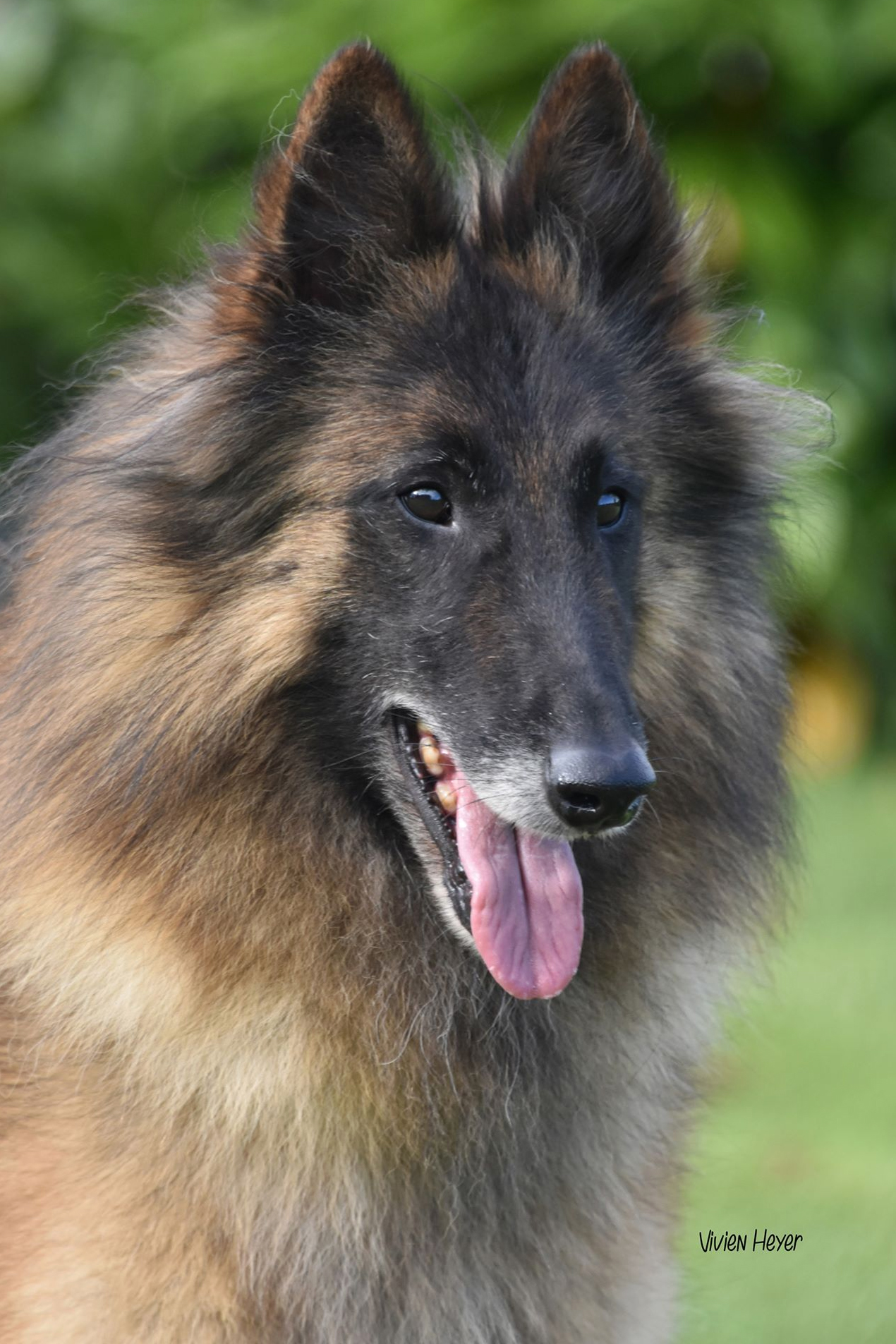 After a fabulous weekend last week at the BHCN and NVBH Specialty, this weekend our In Bloom van Moned (Tulip) made us proud. She won at the BSB Specialty Germany the BEST IN SHOW title (75 dogs entered) , a week after her daughter Semtex van Moned won BIS at the NVBH Specialty. Thank you Tom Roozen for liking our girl so much! With this result she is also a German Champion now!
/
Na een fantastisch weekend op de BHCN en NVBH speciale was het dit weekend tijd voor In Bloom v. Moned "Tulip" om te schitteren. Op de BSB speciale in Duitsland won ze BEST IN SHOW (75 honden ingeschreven) 1 week nadat haar dochter Semtex in Nederland won! We zijn ongeloofelijk trots op moeder en dochter!. Bedankt aan de keurmeester Tom Roozen voor deze eer. Ook is Tulip nu Duits Kampioen geworden met dit resultaat!
Na een zeer rustige tijd met shows ivm Covid was het dit weekend weer tijd voor de Nederlandse speciales die samen georganiseerd werden in 1 weekend! Op zaterdag werd onze nieuwe aanwinst Delete v. Moned BESTE BABY IN SHOW! op zondag deed haar moeder er nog een schepje boven op door de hele show te winnen! dus BEST IN SHOW  op de Nederlandse speciale van de NVBH. De keurmeesters waren M. Krug uit Duitsland en M.F. Varlet uit Frankrijk
After a very quiet time with shows due to Covid it was finaly time for one again! This weekend both Dutch specialty's were organised in 1 weekend! On saterday our youngest addition Delete v. Moned went BEST BABY IN SHOW! On sunday her mother decided she could do beter and won the whole show so she won BEST IN SHOW  on the Dutch specialty of the NVBH. What a start of 2020! The judges were  M. Krug from Germany and M.F. Varlet from France
Semtex haar puppies zijn ondertussen vertrokken naar hun nieuwe huis. We hebben ontzettend genoten van de kleintjes en zijn tot nu toe meer dan tevreden. Mooie flinke en gelijke puppies met een onverstoorbaar karakter! We hebben Delete v. Moned gehouden, onze favoriet van week 1. voor meer foto's kijk bij het D-Nest of klik hier

Semtex her puppies left to their new homes. We enjoyed the little ones a lot and are very satisfied about them, they were big and even puppies with a great temperament. We kept Delete v. Moned, our favorite from day one. To follow the litter look at D-litter ore  click here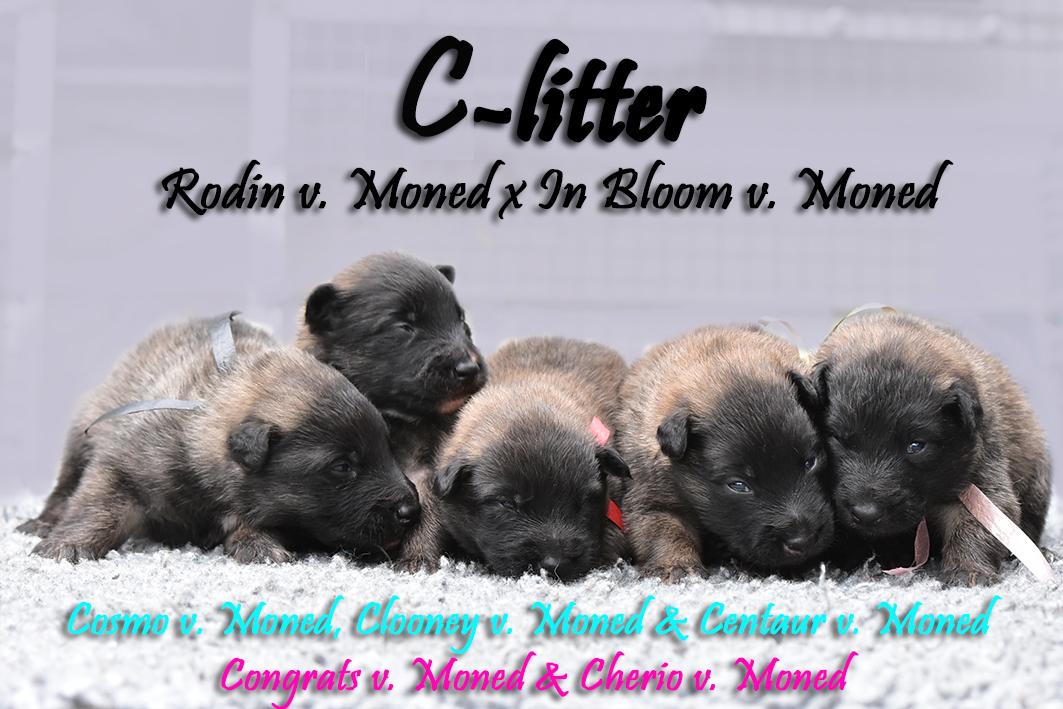 Ons C-nest zijn naar hun nieuwe baasjes vertrokken, We hebben zelf de prachtige Cheerio v. Moned gehouden van deze voor ons zeer speciale combinatie. Voor foto's en info kijk bij C-nest of klik hier