Zaza v. Moned
HD-A
(Swan de la Prairie de la Sommereau x Fakaiser's Yana D'Joconde)
(Zaza woont bij Fons & Marlies / Zaza is living with Fons & Marlies)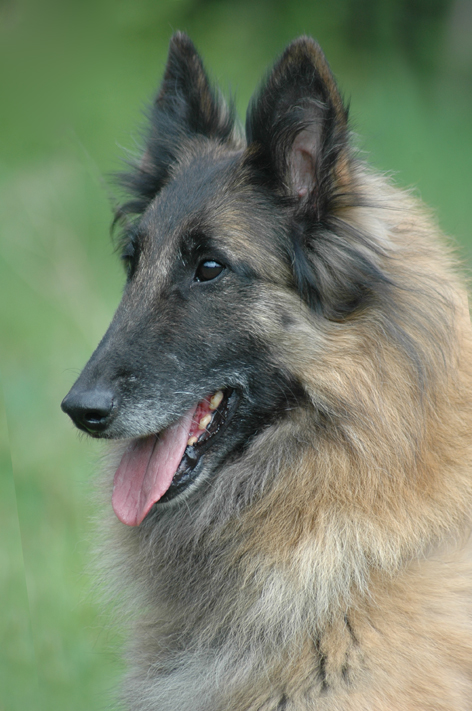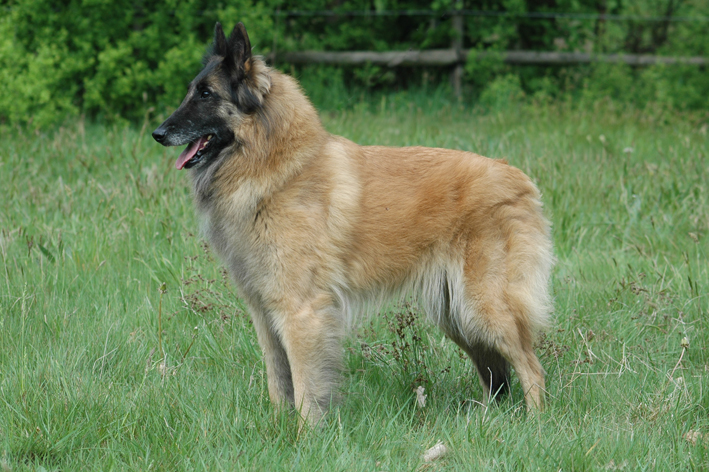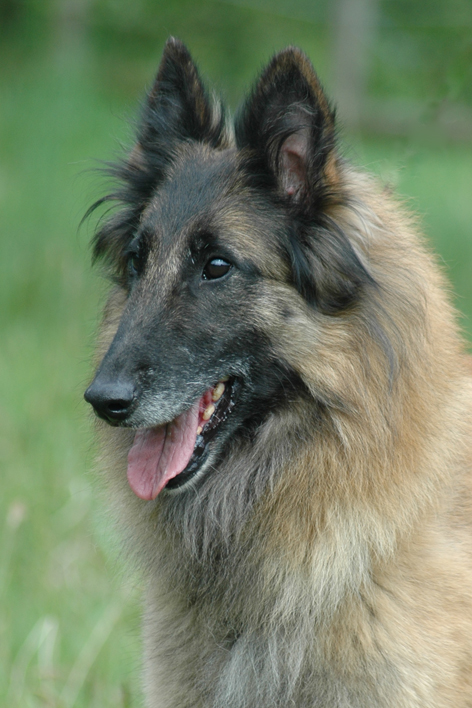 Zaza is ons cadeautje van Pat. Haar moeder
mocht hier een tijdje wonen om een nestje bij ons te krijgen. We hebben
voor Yana Swan gekozen omdat we met het V-nest erg tevreden zijn. Ook
omdat Venus haar pootje heeft gebroken en dus niet geshowd kan worden besloot
ik deze reu nogmaals te gebruiken voor een "nieuwe kans"
Zaza was 1 van 4 meiden waarvan er 2 sable
waren..Zaza trok mijn aandacht vanaf haar geboorte en dat is aldoor zo gebleven
dus de keuze was niet moeilijk. Deze dame groeit voorspoedig op en ziet
er veelbelovend uit. Ze is heel vrij naar mensen en vooral naar
kinderen! Het is een speelse, actieve en vrije pup zoals we hier gewend zijn
bij onze Moned's :0) en we zijn super blij met haar.
Soms moet je wel eens een hele moeilijke
beslissing nemen.  Nadat Zaza 4 jaar is geworden en vrienden van
ons aangaven dat ze een nieuwe hond zochte hebben we met pijn in ons
hart Zaza laten gaan.. Zaza is een ontzettende actieve hond die bij ons
moeilijk in conditie kon blijven.. We besloten voor Zaza haar best wil
dat het beter was om haar in een rustiger gezin te plaatsen.. Gelukkig
hebben we wel de kans om met Zaza te fokken en daar zijn we natuurlijk
ontzettend dankbaar voor!
Zaza is our little girl out of my gift litter
with Yana, we are so gratefull to Pat Morgan that Yana could live here 6 months
to get this litter for us. We also are very gratefull to Maria and Per
for letting us "borrow" Swan for 4 days to make this mating possible.
Zaza was my pick from the beginning as I loved her the moment she was born. This feeling never changed so it was not difficult to decide to keep her. This lovely girl grows up very
nicely and with her sweet, social and happy character she will be another valuable dog for my kennel.
After 4 years we had one of the most difficult decisions a breeder has to make sometimes, Because Zaza is such a active dog that loves to run and play we were not able to get her
in a good enough condition to let her have a litter… When Zaza turned 4 and very good friends of us were looking for a new dog we decided to give them Zaza with the agreement that we could breed 1 litter with her to get a new girl from this very special dog.. Zaza her 1th litter sadly
only brought us 5 males.. Zaza her owners are very kind to let us do one more litter to finaly get a female puppy from our dream girl!
Zaza is a very high quality girl who only gets better the older she gets.. we have a lot of hope in her offspring so we are extremely exited our dream is coming true!
Thank you so much Pat, Maria and Per!!