v.d. Fazantenhoeve Bianca Pasca (Tosca) 

(Flurk de Landas x v.d. Fazantenhoeve Jody)
Toen Tosca bij ons kwam n.a.v. een advertentie in de Telegraaf kwam een droom uit. Ik wist als kind al dat ik een Tervuerense herder wilde en nu had ik er dan een!! Natuurlijk is het niet verstandig zomaar op een advertentie af te gaan maar Tosca was een wereldhond. Ontzettend gehoorzaam en slim en de moeder van ons A en B nest. Toen echter Esther bij ons kwam wonen kregen we problemen. Vechtpartijen waren aan de orde van de dag en we besloten met pijn in ons hart om Tista te plaatsen, Een leuk stel uit Brabandt gaf haar een goed plekje. Zij werd bijna 15 jaar en is gestorven van ouderdom.
(Tosca died of old age, she became almost 15 years old!)
————————————————————————
v.d. Fazantenhoeve Tender Chester 

(v.d. Fazantenhoeve Kelly x v.d. Fazantenhoeve Chantal)
Chester kwam bij ons omdat ik meer ging werken en Tosca een kameraadje wilde geven. Deze reu was sable kleurig. Chester was de grote vriend van Caspar, waar Caspar speelde was Chester zijn oppas. Hij is de vader van ons B nest, helaas op 25 november 1991, nog geen 2 jaar oud,  ging hij op stap en werd slachtoffer van een noodlottig ongeval. Hij was op slag dood. Zijn enige puppies werden een week daarna geboren.
(Chester died of a car accident)
—————————————————————–


01-06-1988

 2001
v.d. Fazantenhoeve Zulle 

(Kalin de la Pouroffe x v.d. Fazantenhoeve Octa)
Zulle kwam bij ons omdat Tosca nu alleen was. Hij was al 3 jaar maar we vielen als een blok voor hem. Zulle was een ontzettend vriendelijke, sociale hond die ook nooit ruzie maakte met andere reuen. Hij is 13 jaar geworden en gestorven aan ouderdom.
(Zulle died of old age)
———————————————————————————–

16-11-1988 / 1997
v.d. Fazantenhoeve Esther


(Sylvester van Astrita Hof x v.d. Fazantenhoeve Fiona)
Esther was de geweldige moeder van ons C en E nest. Deze super stabiele en lieve hond was echt een topper om in huis te hebben. Zij kwam volwassen en zwanger bij ons maar paste zich direct aan en wilde niet meer weg. Esther werd bijna 10 jaar en stierf aan lymphklierkanker.
(Esther dead of cancer on the Lympatic System)
—————————————————————————————————
Esthers Cleo van Moned 

(v.d. Fazantenhoeve King Husky x v.d. Fazantenhoeve Esther)
Cleo was de dochter van Esther. Zij was een bijzonder leuke hond om GG mee te doen, super gehoorzaam en werkwillig. Zij is de moeder van ons G nest waaruit we Ginger hebben gehouden die helaas op 9 maanden leeftijd onder een auto kwam en op slag dood was. Cleo is op 7 jarige leeftijd verhuisd naar een gezin in Hoorn. Zij is bijna 11 jaar geworden en gestorven aan leverkanker.
(Cleo died of liver cancer at the age of 11 years)
———————————————————————————————————–

09-08-1994 / 2003
Gallyon v.d. Schagerwaard 

(Kamp. RE Millo v.d. Hoge Laer IPO3 x Brenda v.d. Lamar)
Gallyon (Kelly) was onze eerste stap naar een ander type hond, helaas kreeg zij na de eerste dekking een baarmoederontsteking en moesten wij haar laten steriliseren. Zij was een klein watervlug hondje die perfect behendigheid liep, ook was ze helemaal gek van kinderen en was dan ook altijd in hun buurt te vinden. Haar grote vriend was Falco v.d. Lamar…. echter na zijn vertrek ging het snel bergafwaarts met haar. Zij stierf, bijna 10, aan maagkanker.
(Gallyon died of stomach cancer at the age of almost 10 years)



—————————————————————————————————————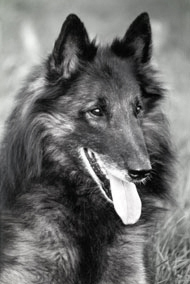 17-04-1993 / 24-11-2005

Elite A Falco v.d. Lamar 
(Int. Kamp. Para v.d. Hoge Laer x Elite A Jolie Canelle du Domaine Ponti)
Falco kwam bij ons in Wervershoof wonen omdat hij terug kwam bij zijn fokker. Deze had echter geen plaats voor hem dus vroegen zij of hij bij ons kon wonen. Zelden heb ik zo'n stabiele, sociale en zekere Belg meegemaakt…een super karakter. Al snel werden zijn eerste nakomelingen geboren. Veel fokkers hadden
interesse in hem ondanks dat hij eigenlijk nooit op show kwam, dat was gewoon zijn ding niet want hij verveelde zich er stierlijk. Lekker buiten samen met Kelly (Gallyon) kijken wat wij of de kids aan het doen waren vond hij het mooist, rennen op het strand en de meiden afbluffen met de bal….in de straal van de waterspuit gaan staan en boeven vangen, dat was Falco. Een moediger en trouwere vriend  kon je je niet wensen….. Door omstandigheden ging hij op 9 jarige leeftijd weer terug naar de fam. Dubach, wat mij bijzonder veel verdriet heeft gedaan.
Falco stierf, 12.5 jaar, aan maagkanker.
(Falco died of stomach cancer at the age of 12,5 years)
——————————————————————————-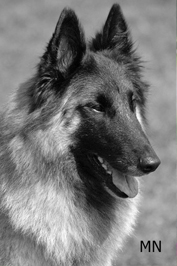 13-03-2003 / 09-01-2009
13-03-2003 / 09-01-2009
Promesse Eedwer van Moned
(pE Juvell Orna van Moned x Kamp. Elite A Morgana v.d. Lamar)
Toen ik door het ongeluk van Venus onverwacht op bezoek ging bij de baasjes van Eedwer was ik heel verrast door de
verschijning van haar…vele jaren had ik haar niet gezien door allerlei omstandigheden dus had geen idee hoe ze zou zijn en hoe ze eruit zou zien….na haar baasjes enthousiast te hebben gemaakt mocht Eedwer met ons mee naar de Clubmatch van de NVBH 2007, zij won de openklas van 23 inschrijvingen!! Toen ging alles in een stroomversnelling…na 6 maanden had zij alle titels vergaard die er te halen zijn, 2 gedragstesten gelopen en was zij gedekt door Ferrari de la Lune "Crash"!! Een mooi nestje van 5 puppies werd geboren waaruit wij River hebben aangehouden. Alles verliep zo super….a dream came true.. deze droom veranderde echter 10 januari 2009 in
een nachtmerrie toen wij het telefoontje kregen dat Eedwer aangereden was en aan haar verwondingen was bezweken….wij waren totaal verbijsterd. Ondanks dat Eedwer niet bij ons woonde was zij zeer speciaal voor ons..zij voelde dan ook gewoon als "onze" hond… het verdriet was daarom enorm…
Eedwer was de hond die ik voor ogen heb als ik fok: een goed stabiel karakter, veel temperament en werklust, nergens bang
voor, gezond en een plaatje om te zien… we waren dan ook heel dankbaar toen we van Rindert en Geeske toestemming kregen haar te laten dekken. Door het overlijden van Eedwer vallen onze verdere fokplannen met haar in duigen.
Rindert en Geeske heel veel sterkte met het verlies van deze dappere hond, ze was een "once in a lifetime"…..
(Eedwer died instantly hit by a car )
————————————————————————————————
23-02-1996 / 28-12-2009
pE sr. Isis v.d. Lamar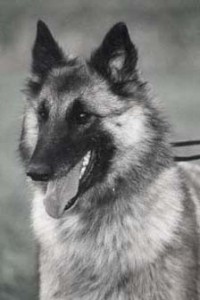 (sr. pE Hexenhouse Rawk x Re Elite A Dylan v.d. Lamar)
Omdat we met onze Gallyon niet konden fokken besloot ik uit dezelfde lijnen een andere hond te gaan kopen, de keuze viel op kennel van de Lamar omdat ik al langere tijd zeer gecharmeerd was van hun Dylan..na een jaar wachten werd onze Isis geboren, een nest van 8 meiden!! dat werd lastig uitzoeken…Samen met Sjouk viel de keus op het teefje met het beige bandje…ook Ilot (Kennel v.d. Lamar) trok mijn aandacht maar we waren bang dat zij te groot zou gaan worden…zij werd als huishond geplaatst en kwam later terug bij de Lamar.
Isis was de eerste hond waarmee we qua fokkerij een geheel andere richting in sloegen, vier nesten gezonde honden heeft zij voortgebracht, waarvan de oudste eind april 2010 12 jaar zullen worden. Kismet uit haar nest met Xeros v.d. Hoge Laer is nog bij ons. Met Isis' lijn fok ik niet meer omdat haar halfzus Morgana mij meer bracht wat ik zocht in de fokkerij.
Isis heeft de respectabele leeftijd behaald van bijna 14 jaar…altijd gezond, vrolijk en genietend van het leven,
puppies waren haar droom en haar bijzondere eigenschappen zien we duidelijk terug in haar "babies". Ze heeft een mooi leven geleefd maar het was nu echt op…
Lieve Isis, Smurf, Wurm….je was een onvergetelijke hond en je hebt een onuitwisbare indruk op ons gemaakt…R.I.P  je zult nooit vergeten worden…
(Isis died of old age)
—————————————————————————————————————-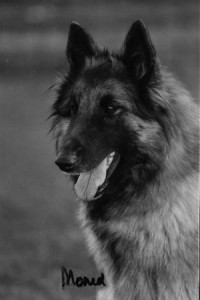 11-07-1996 / 11-05-2010
Elite a Orphee v.d. Schagerwaard
(RE Day Dreem de Condivicnum x Eefrie v.d. Schagerwaard)
Onze geweldige Orphee v.d. Schagerwaard is niet meer…… helaas woonde ze door mijn scheiding al lange tijd niet meer bij ons maar zij was een onvergetelijke hond. Haar geweldig lieve uitstraling en mooie voorkomen heeft zij aan haar nakomelingen doorgegeven
en zien wij terug in ons J, L en O nest…Zij was voor de NVBH Elite A vererver wat ons altijd zeer trots maakte, dit is een niet makkelijk te verdienen titel en heeft ook betrekking op haar nakomelingen.
Lieve Orphee rust zacht, we zullen je nooit vergeten……
(Orphee died of old age)

—————————————————————————————————————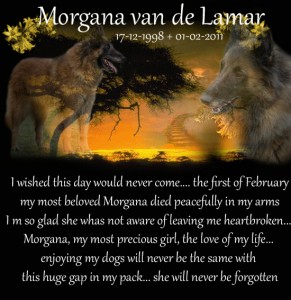 11-07-1996 / 11-05-2010
Elite a. Re. Dutch Champ. Morgana-Dylan van de Lamar
(Gourou du Crepuscule des Loups x Dylan van de Lamar)
——————————————————————————————————-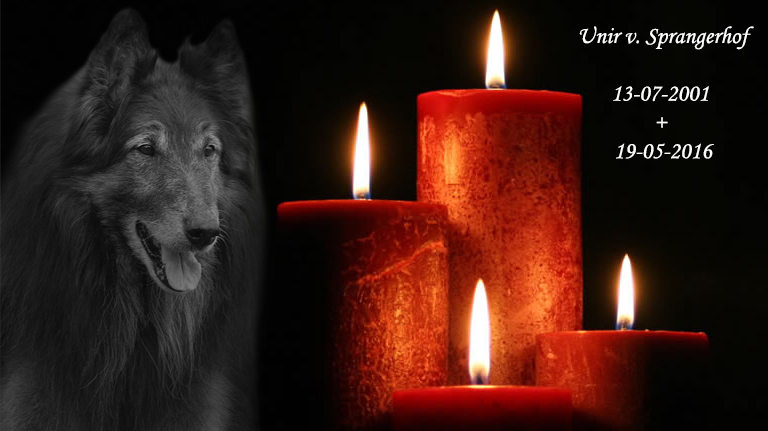 Champion. UNIR V. SPRANGERHOF UAGII, CGC, JHD, RE, RA, RL1, RL2, NA, TN-N, CL2-R, CL3-R, CL4-H, F & S, HIC 13-07-2001 + 19-05-2016
It is with great sadness to tell you all that a very special dog passed away at the respectable age of almost 15 years just before the weekend.. Our Unir v. Sprangerhof colapsed on wednesday and could not get up.. we carried him inside and hoped he would be better the next day.. but sadly he gave up.. we made the very difficult decision to give him rest.. he was already getting less active and less secure on his feeth and less responsive the last couple of months but his loss has hit us hard and unexpected… Unir came into our lives when he was 10 years, after he lost the love of his life, his owner Nancy to cancer. Unir has shook up our live and changed it forever.. together we shared laughes, tears, sleepless nights and much more.. He is together with Nancy now and we know she will be happy to welcome him … We want to thank everyone who recognized his qualities and have used him in this last few years in their breeding program.. His pedigree brought interesting blood back to Europe and his excellent temprement and looks have already brought good things to the breed.. We also want to send a big thank you to Pat who let Unir come to us and is now again owner of one of his grandkids… RIP special boy..
Helaas hebben we heel triest nieuws.. op de mooie leeftijd van bijna 15 jaar oud is onze Unir gestorven vlak voor het weekend.. Unir stortte woensdag in elkaar en we kregen hem niet meer in de benen.. we hebben hem naar binnen gedragen en hoopte dat hij de volgende dag zich weer wat beter zou voelen.. helaas was dit niet het geval en leek het juist of hij moe was van het leven.. hij gaf op en kon nog amper zijn hoofd optillen.. We hebben de moeilijke beslissing moeten nemen om hem te laten gaan.. De afgelopen maanden was hij al minder stabiel met lopen en leek hij minder aanwezig en was hij minder actief maar dat het ineens zo snel zou gaan hadden we niet kunnen voorzien en daarom is zijn overleden voor ons ook echt een schok.. Unir kam in ons leven op 10 jarige leeftijd toen zijn huidige eigenaar Nancy overleed aan kanker.. We hadden nooit kunnen denken dat Unir ons leven voor altijd zo zou veranderden.. We hebben samen gelachen, gehuild, heel wat slapeloze nachten gehad en nog veel meer.. We willen iedereen bedanken die zijn kwaliteiten heeft gezien en hem gebruikt hebben in hun fokprogramma.. zijn stamboom heeft interessant en goed bloed gebracht naar Europa en zijn goede karakter en uiterlijk heeft al goede dingen toegevoegd aan het ras.. We willen nogmaals Pat bedanken dat ze Unir naar ons heeft laten gaan.. We zullen hem ontzettend missen..
Op maandag 13 februari hebben we de verschrikkelijk moeilijke beslissing moeten nemen om onze hele speciale Ultra te laten gaan.. nadat ze begin december gediagnosticeerd was met bot kanker aan haar achterpoot en al uitzaaiingen in haar longen hebben we haar gelukkig met goede pijnstillers nog 2 mooie en pijnvrije maanden kunnen geven. Nadat we vrijdag Kismet haar 16 verjaardag hadden gevierd en nog een paar foto's van de oude meiden hadden gemaakt werd Ultra ineens blind en gedeeltelijk verlamd in het weekend. Ze is overleden in de armen van de gene waar ze het meeste van hield, Kayleigh. Ze is nu vrij en weer samen met haar Moeder en beste vriend Unir die we een half jaar geleden hebben moeten laten gaan. We zullen onze speciale en unieke Ultra nooit vergeten, ze heeft ons zoveel plezier gebracht. Haar kleinkinderen die geboren zijn op 1 januari geven ons weer nieuwe hoop voor de toekomst.. Maar er is natuurlijk maar 1 Ultra.. RIP speciale meid, we zullen je voor altijd missen.
On monday the 13th of februari we made the heartbreaking decision to let Ultra go..after being diagnosed with bone cancer almost two months ago we were very lucky to have her with us for another 2 months keeping her happy and painfree.
Just after celebrating her 'sisters' 16th brithday on friday and taking pictures outside, suddely over the weekend she got blind and partly paralized… she died in the arms of the person she loved the most, Kayleigh, so she can run free now with her mother and her big friend Unir we lost last year..
Our dear special unique Ultra will never be forgotten…she brought us so much joy. Her grandchildren born on the 1th of januari this year will give us a new hope for the future.. but ofcourse there will always be only one Ultra..Special girl RIP….you will always be missed..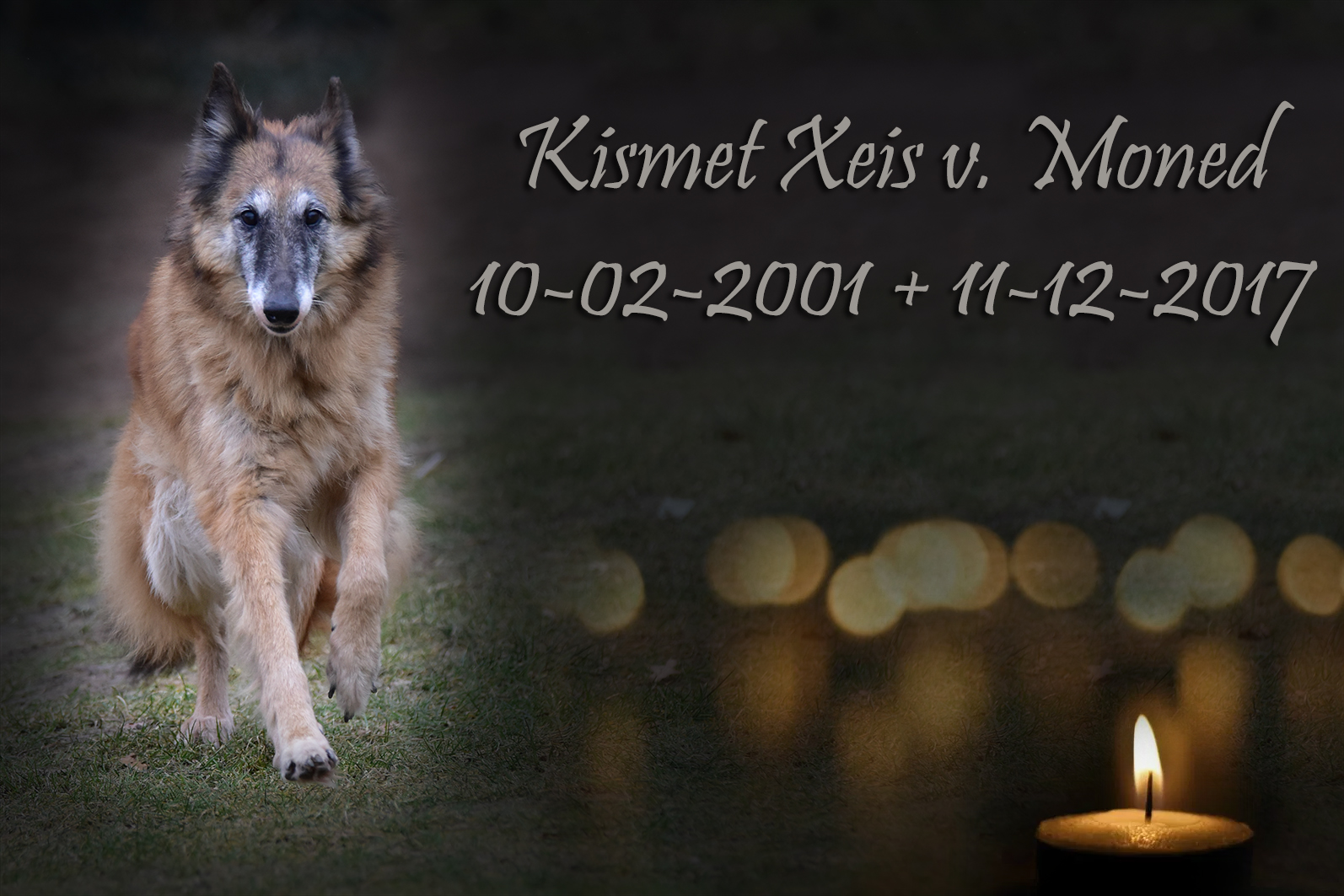 The 11th of december we had to let our golden oldie Kismet Xeis van Moned go over the rainbow bridge, a heartbreaking decision…
2 months shy of 17 years old her body just gave up…living in her own world, eating and walking around till the last day as she was so unbelievable strong..
This very unique girl, loved to run, always funny and crazy will always have a very special place in our hearts..being born on my own birthday out of a litter of 12 she was the best present ever
She came out of the combination Xeros v.d. Hoge Laer and Isis v.d. Lamar and had two litters with Shadow v.d. Schagerwaard en v.d. Pillendijk Darco.
Goodbye our dear Kismet run free!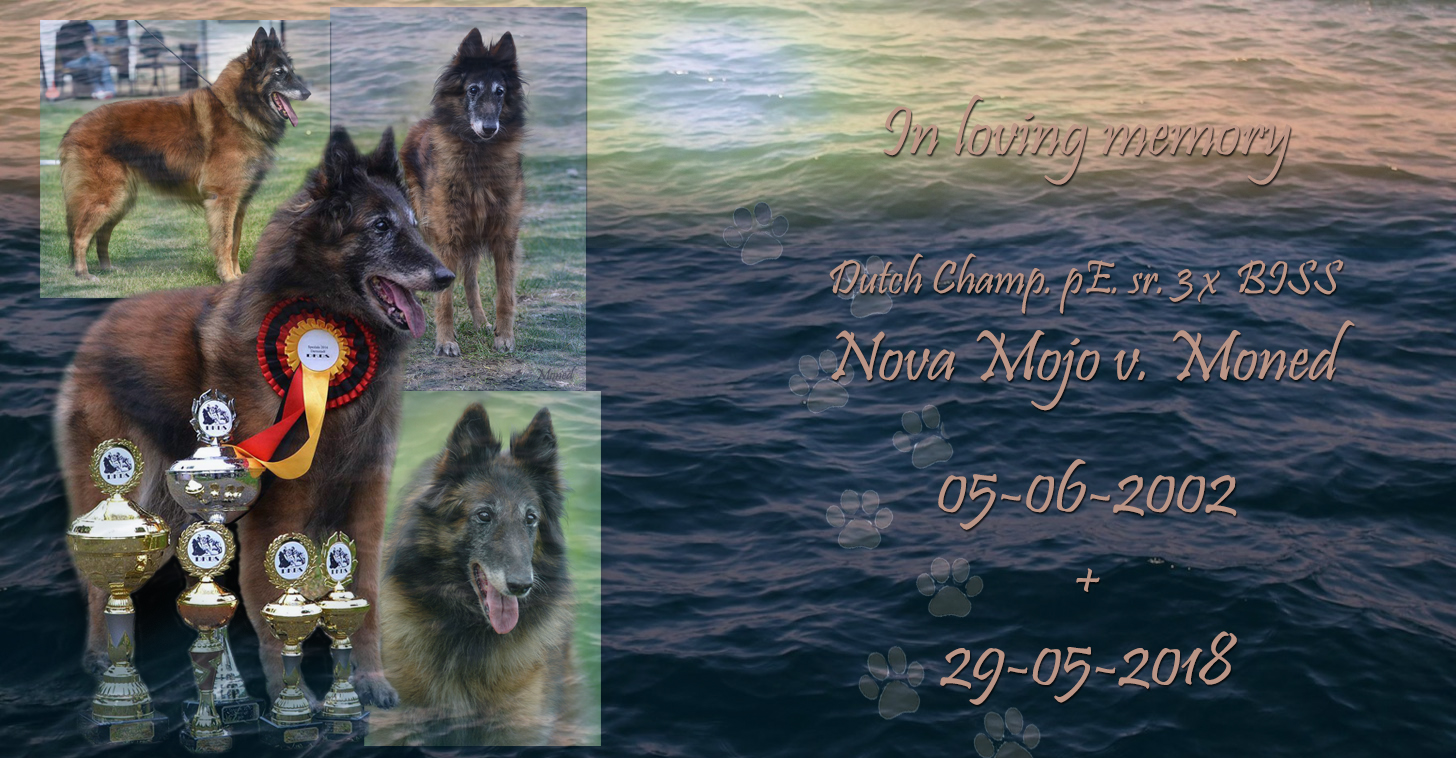 CHAMP. SR. PE 3x BISS NOVA VAN MONED (Kamp. pE Morgana v.d. Lamar x Sr. Joram du Clos de Jochnacke) 05-06-2002/ 28-05-2018
An era has ended…our super beloved, super beautiful, super special, and most of all my heart dog gave up living this morning..
Slowly fainting over the last weeks we couldn't do anything for her anymore….Our Nova is gone….one week before her 16th birthday…
I will terribly miss her beautiful black eyes and her always 'ready to rumble' attitude..
She is really gone…leaving a empty hole forever..
''This morning when you died..it torn my heart in two
One half fell to pieces and the other half died with you…''
We will never forget you, run free with your mom and sissy Ultra and your long lasting friend Kismet who just died a half year ago almost 17 years old..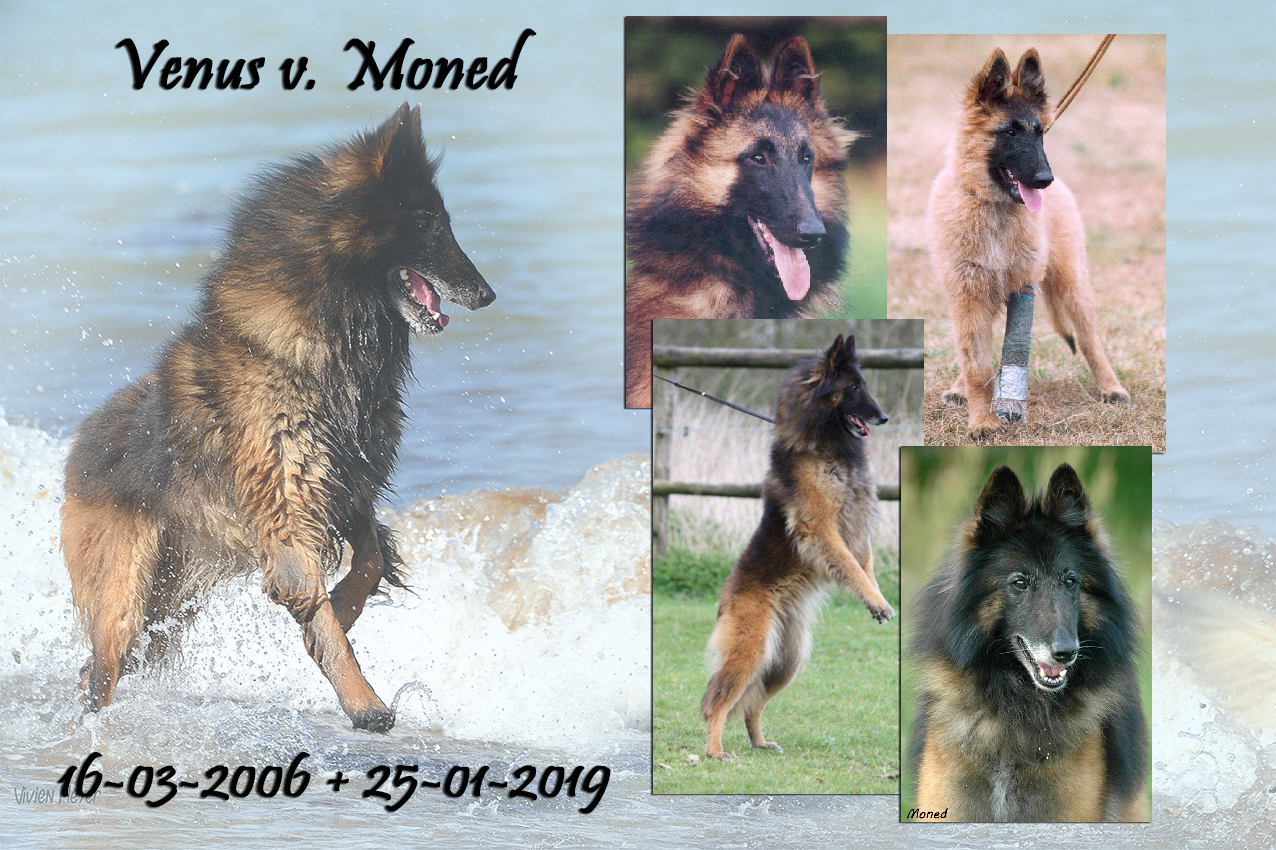 Yesterday we said goodbye to our little, brave, crazy girl Venus van Moned
She lived her life at full speed, always running, full of energy and looking if she could cause any trouble
Last month she started to become depressed and did not enjoy life anymore
last few days not only her mind gave up but also her body…we had to make the tough decision to let her go..
Her daughter Tulip will fullfill her legacy and her two grand daughters Semtex and Cheese will always remind us of her
Venus never had a show career due to 2 severe injuries at very young age but her beauty was undeniable..
Venus run free and have fun chasing the cats at the rainbow bridge.. 16-03-2006 + 25-01-2019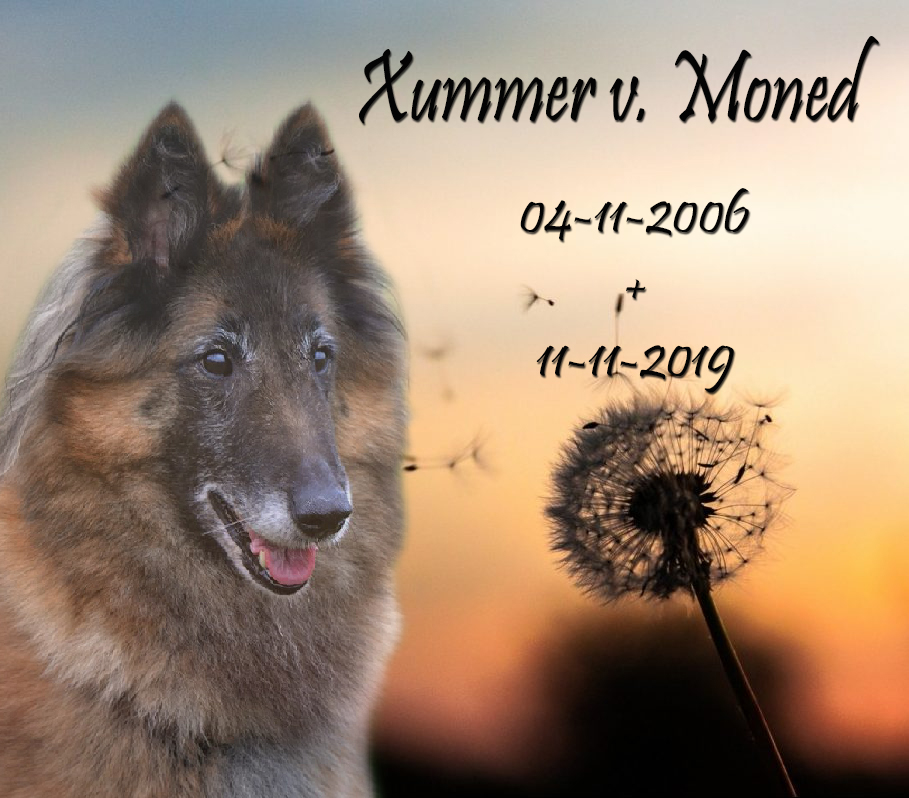 The 11th of November we lost our beautiful and beloved Xummer van Moned at the age of 13. Just before the weekend she lost strength in her hind legs, after vet treatment we hoped she would get better but she didn't. We only could make one decision and give her rest. We will never forget this girl coming back in our lives after her owner could not keep her anymore. She immediately touched our hearts and never left. Sweet girl rest in peace. Have fun with your mom and grandmother and wait for us..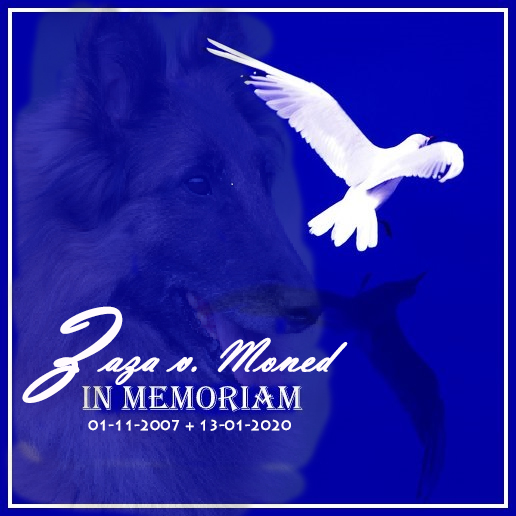 On the 13h of January completely unexpected died our beautiful Zaza van Moned. She seemed in normal health and a happy 12 year old but suddenly something came up and took her life… She deteriorated during the night and died in her sleep… Zaza was born out of Fakaisers Yana d'Yoconde who I fell in love with the first moment I saw her, I am still sad she did not stay with us after her litter but had to go back to her owner Pat Morgan. Her father was Swan de la Prairie de la Sommereau. Zaza is the mother of our boy Rodin and a few years ago we had Zaza's half-brother Venture for a visit who gave us our beautifull In Bloom van Moned so Zaza's legacy still has a big influence on our breeding program. Her body is send to Utrecht Veterinairy University for autopsy to find out what happened and after weeks we received the rapport that said she had an infection possibly for a longer time that suddenly caused sepsis. She never showed any sign of not feeling well so that is really a shock… Zaza was not living with us because our household was to busy for her but she lived and was loved by Marlies, Fons and kids. We want to wish specially Marlies a lot of strength to give this loss a place, Zaza 's death came much to soon and unexpected… And we want to thank her again for giving us the opportunity to breed with Zaza. RIP beautiful sweet girl.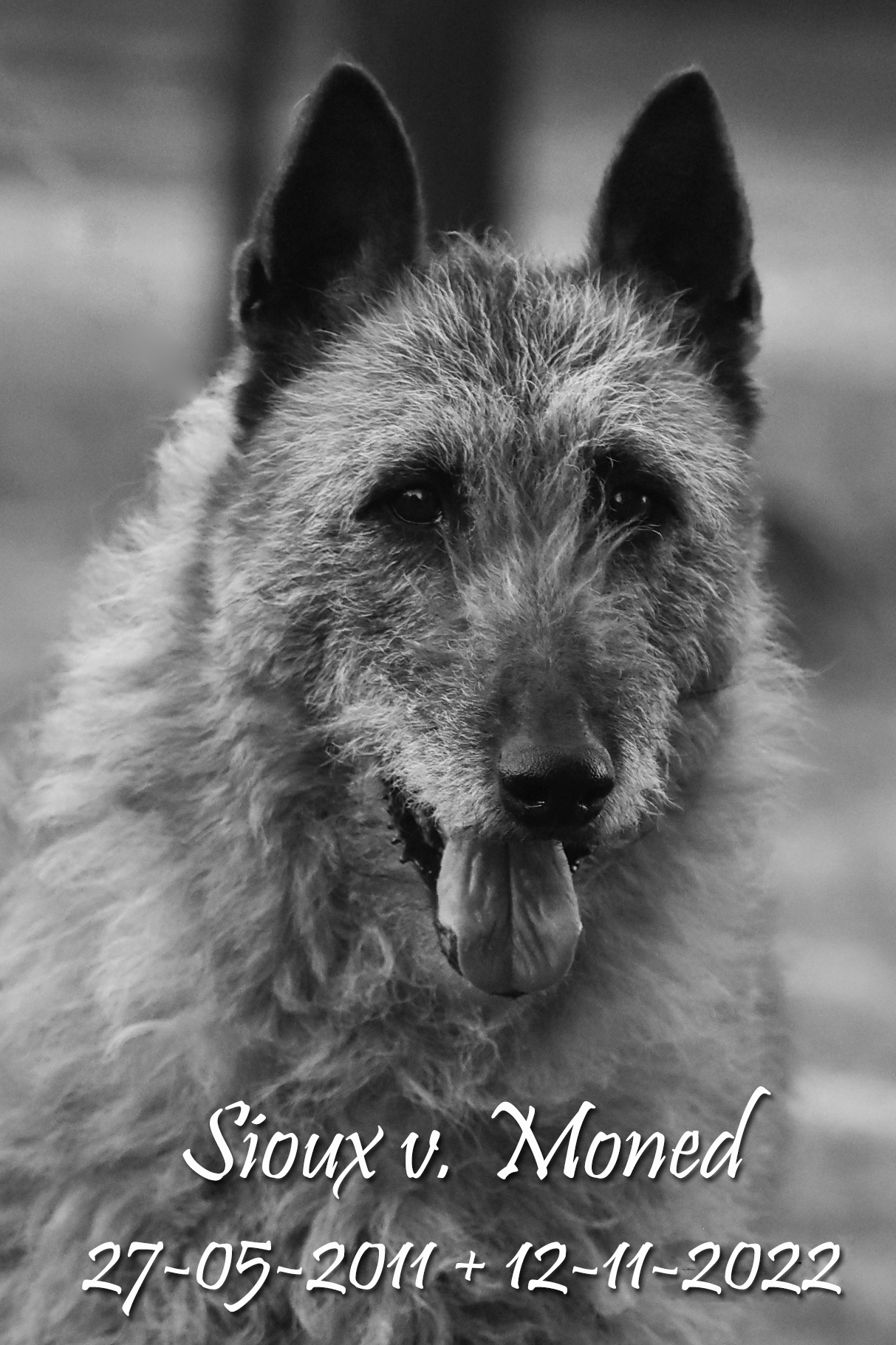 On the 12th of November I had to make one of the hardest dissisions to let my Sioux go to safe her from further suffering. It is a post every dog owner is afraid to wright and sadly for me it came after only 11,5 years. Sioux was a incredable dog in every way. a superb temperament, looks and health till she got sick in April. We could stabalize her but sadly 2 weeks before her passing she stopped eating and got weaker by the day.. we found a tumor in her anal glands and in her abdomen. We tried to make her comfortable but she decined very rapidly. People who knew this dog knew what a special one she was and mostly how special she was to me. I still look behind me now and than to see if she is there but sadly she is not. it is still hard to believe and to cope with. RIP my girl. if there is someone up there they are damn lucky to have you by there side.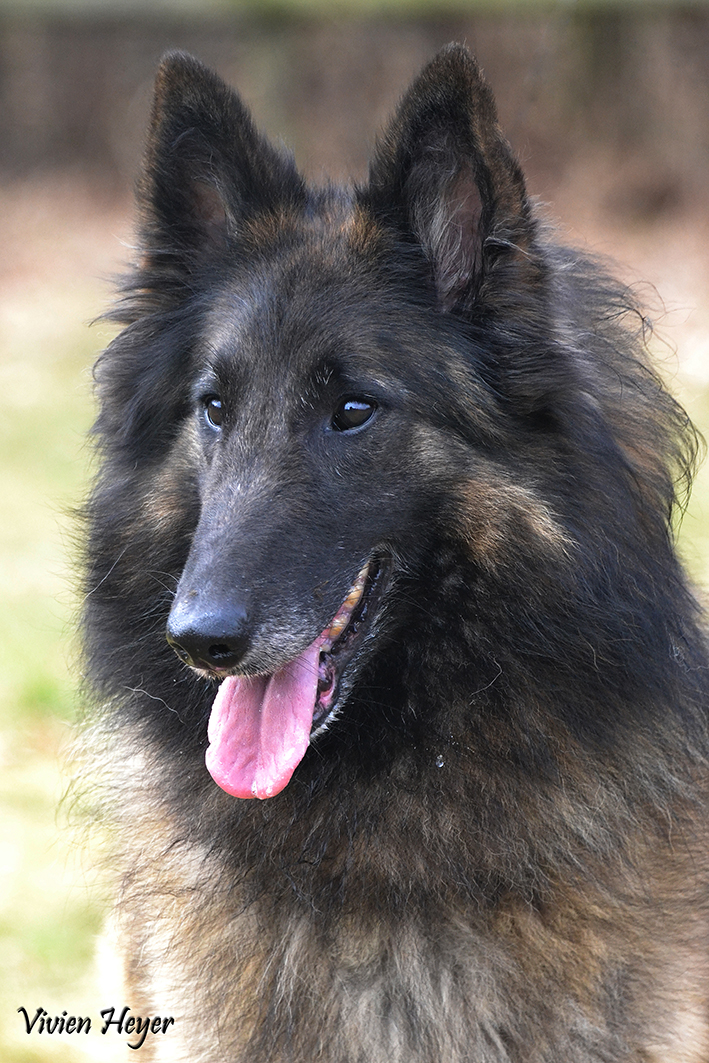 10,5 years ago this dog was born a beauty from the start and she knew it. Never liked to show and even though she was happy with us we knew one day she needed a person for her own. 7,5 years later we found this person. after John lost "our" Niavana Aristocrat he was looking for a new dog and even though we hoped they would love eachother as we loved Fling we could not have hoped Fling truly LOVED John and would never look back. It breaks our heart they only had 3 years together. Half a year ago Joh noticed flat stool and after investigation we found a tumor in her anal glands and a huge tumor in her abdomen. We knew the only thing we could do is wait and make her comfortable. She lived another 6 months till she showed it was enough. John had to make the hardest decision to let her go. We want to send a huge thank you for taking such good care of our girl, you both sure were a match made in heaven.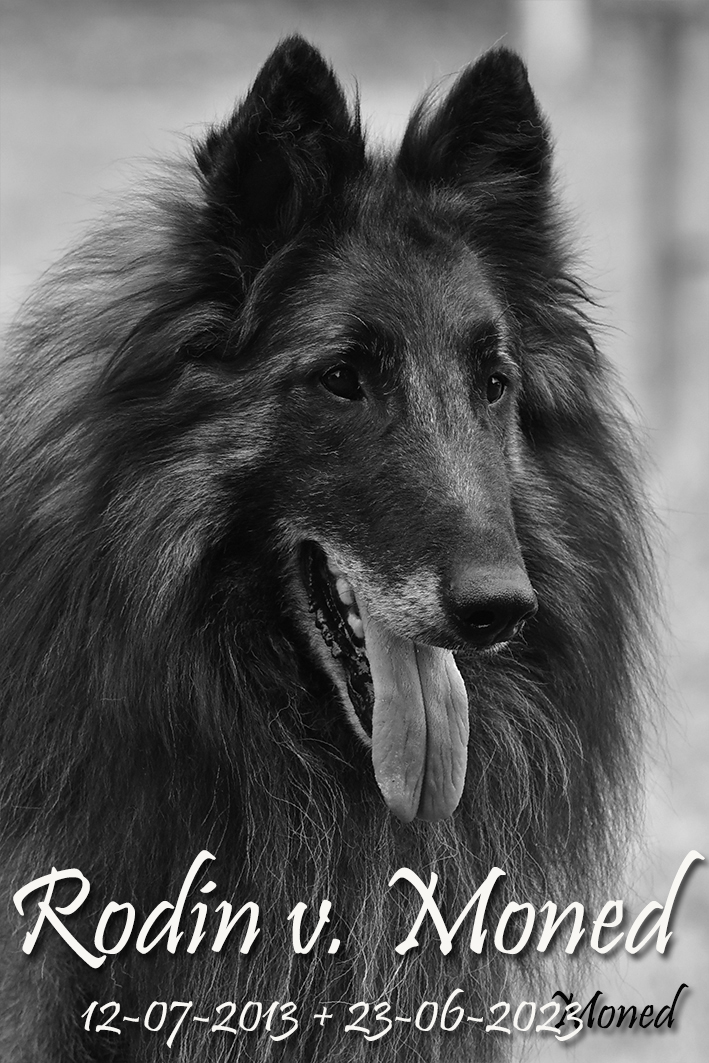 The legend, my legend is no more.. friday morning he was not his normal self, quiet, drooling a bit, and his belly was bigger than normal. I decided to take him with me to my work to keep a eye on him and to make x-ray, my worsed nightmare got true, on the xray a torsian of the stomach was visable, we rushed him into surgery and fought for his life for hours but it was not enough, 2 hours after the surgery he passed way. Rodin was a amazing dog, a dog who was my perfect package. All the people who knew him knew how special he was, how special he was to me. The hole is my heart is already so big but he made it even bigger. It is still hard to believe he is not with me anymore