Nieuws / News
——————————————————————–
23-04-2018
——————————————————————–
We hebben een jonge reu en teef in de herplaatsing, contact voor meer info
info@vanmoned.com / 0598742412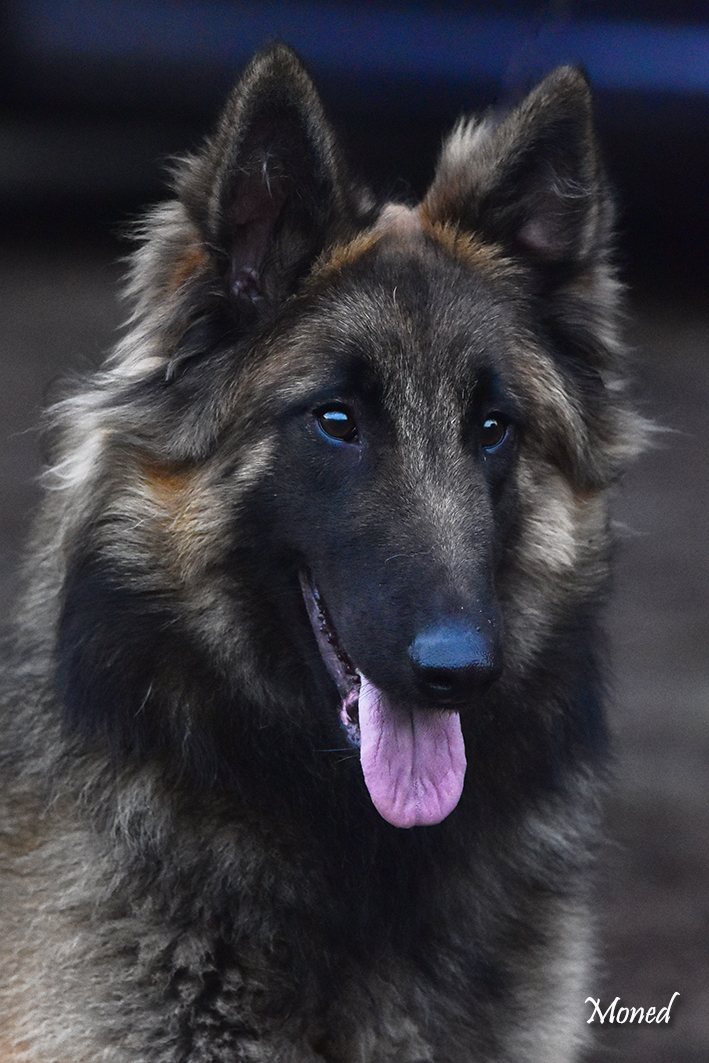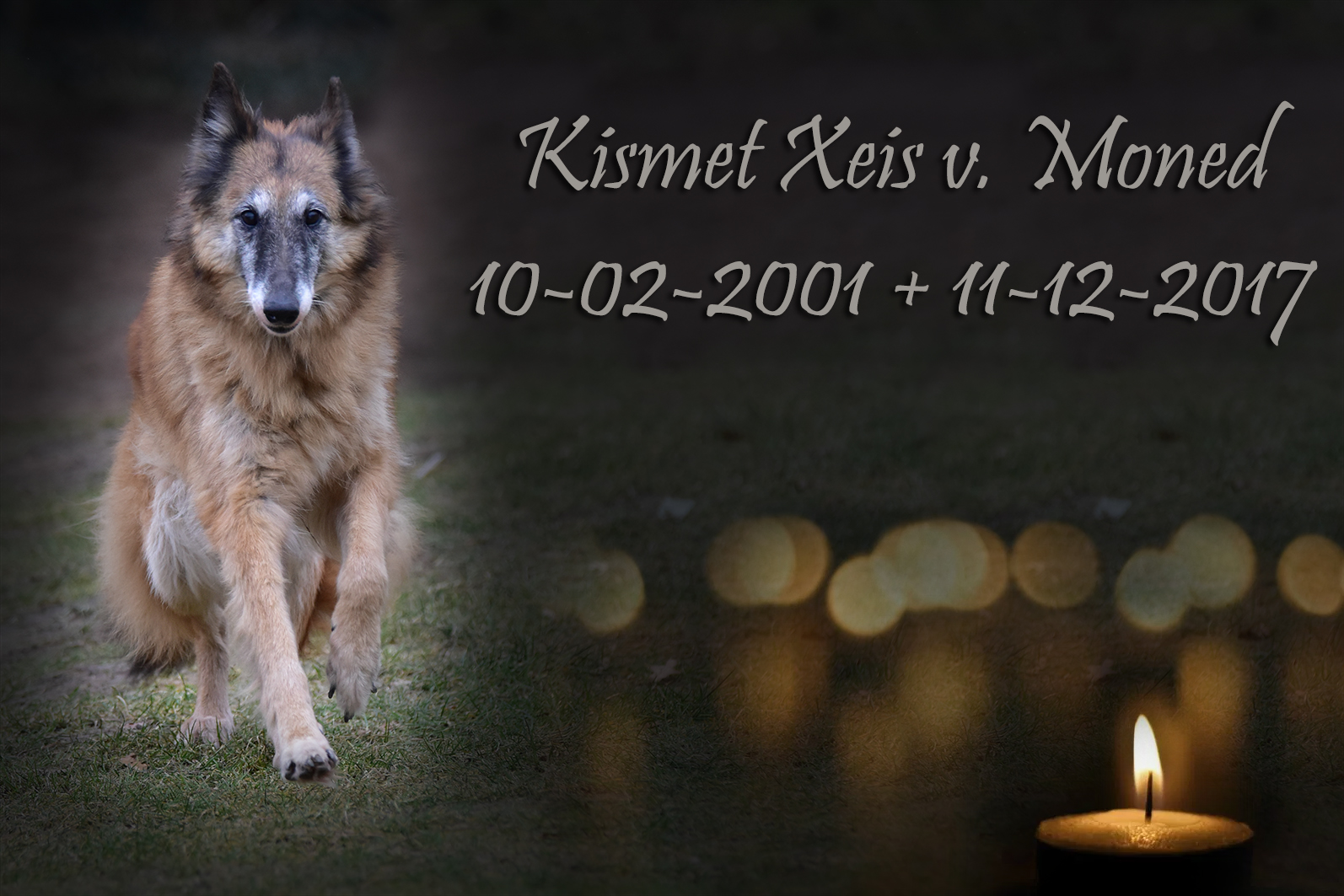 The 11th of december we had to let our golden oldie Kismet Xeis van Moned go over the rainbow bridge, a heartbreaking decision…
2 months shy of 17 years old her body just gave up…living in her own world, eating and walking around till the last day as she was so unbelievable strong..
This very unique girl, loved to run, always funny and crazy will always have a very special place in our hearts..being born on my own birthday out of a litter of 12 she was the best present ever
She came out of the combination Xeros v.d. Hoge Laer and Isis v.d. Lamar and had two litters with Shadow v.d. Schagerwaard en v.d. Pillendijk Darco.
Goodbye our dear Kismet run free!
Toendra has been on his first adult show at the Bundessieger show in Dortmund, both day's he got a lovely 1th place and the title Bundes jugend sieger & Autumn Jugend sieger! with this result he is now Crufts qualified 🙂 Toendra has lost all his coat so he will not be in shows for a while.. We might just bring him to Crufts with hopefully his new coat!
—————————
Toendra is op zijn eerste "volwassen" show geweest in Duitsland op de Bundessieger show, beide dagen haalde hij een mooie eerste plaats en de titel Bundes Jugend sieger & Herbst Jugend sieger. Met dit resultaat is hij gequalifiseerd voor Crufts 🙂 Helaas heeft Toendra nu zijn jeugd vacht verlopen.. Wie weet nemen we hem mee naar Engeland met hopelijk een nieuwe vacht 🙂
Rodin v. Moned heeft 2 erg goede weekende achter de rug, vorige week is hij geshowed in Dutsland en heeft hier zijn laatste 2 punten voor zijn Duits show Kampioenschap behaald! Dit weekend zijn we naar Heikant afgereist voor Rodin zijn eerste schapenhoud wedstrijd, hij heeft met succes de HWT test gehaald als eerste Tervueren in ons land! Met dit resultaat mag hij nu ook in de werkhonden klasse ingeschreven worden op show! we zijn super trots op deze veelzijdige hond!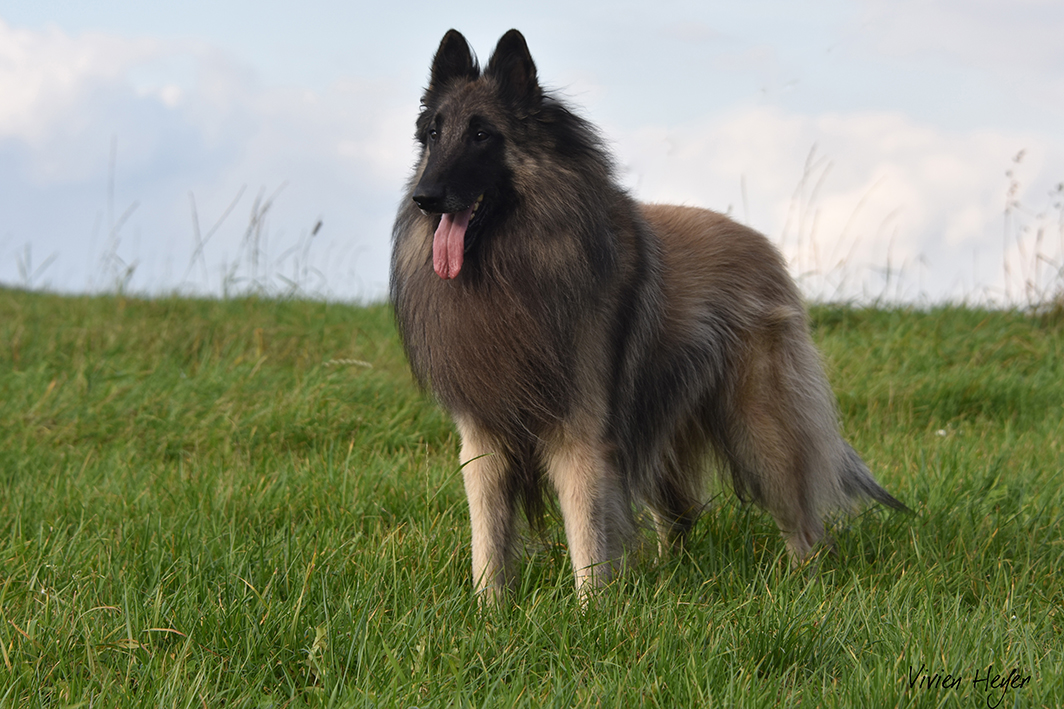 Rodin v. Moned has had 2 very nice weekend behind him. 2 weeks ago he was at the International dogshow in Dortmund where he got his last 2 points to compleet his German show Champion title! This weekend Rodin went to his first sheep herding competition and passed the HWT test as the first Tervueren in our country! With this result he can now be entered in working class at shows! We are very proud of this boy with beauty and brains 🙂
Ontzettend gefeliciteerd aan  "team Dekker" Linda Lester Davina Jones, Mark, Ollie met alweer een Beste van het ras voor Dekker (Champ. French Kiss v. Moned with Domburg) met dit keer als afronding een 2e plaats in een onzettende grote Pasterol groep! Er waren meer dan 650 dogs honden ingeschreven! De keurmeester voor het ras was Jane Willingham  en voor de groep Lynne Salt
Massive massive congrats to everyone on "team Dekker" Linda Lester Davina Jones, Mark, Ollie (and everyone else I forgot to mention) with another BOB for Dekker (Champ. French Kiss v. Moned with Domburg) and a second place in a huge Pastoral group today! There were over 650 dogs entered at least! The breed judge Jane Willingham and group judge Lynne Salt
Toendra has been on his last puppy show at the German specialty this past weekend, he got a lovely BEST PUPPY IN SHOW for the second time in 2 weeks! Also Rodin was there, he passed the temperament test on Friday, got a 4th place on Saturday and was later selected ER as the only Tervueren male shown!
—————————
Toendra is op zijn laatste puppy show geweest afgelopen weekend. Dit keer naar de Duitse speciale, hij behaalde BESTE PUPPY IN SHOW voor de 2e x in 2 weken! Ook Rodin was mee, hij haalde vrijdag de gedragstest, zaterdag werd hij 4e en in de avond werd hij geselecteerd als aanbevolen fokhond als enige Tervueren reu die aanwezig was 🙂
Helaas word de website niet meer zo vaak geupdate op de nieuwspagina als eerst.. echter worden er wel wekelijks foto's toegevoegd in de nest albums en bij onze honden.. Hier dan toch even een kleine update!
We zijn zeer trots dat onze speciale In Bloom v. Moned de trotse moeder is geworden van 6 puppies! de vader is Fandango du Bois du Tôt! voor meer info klik hier
De andere honden hebben ook niet stil gezeten 😉 enkele hoogtepunten:
Rodin v. Moned heeft de schapen aanlegtest NHAT op het hoogste niveau gehaald! ook is hij geselecteerd bij de BHCN Se! Rodin is ook weer meegeweest naar Frankrijk en heeft een hele mooie 9e plaats gehaald in de openklasse van de 45 reuen! Rodin zijn dochter deed het ook werkelijk geweldig in Frankrijk. Ze werd Best in show jeugd hond op de Franse speciale.. hiermee versloeg ze zeker 80 honden die dag!
Toendra v. Moned  heeft ook meegedaan aan de schapen aanlegtest NHAT en heeft hem ook op het hoogste niveau gehaald! Ook heeft hij op de BHCN nederlandse speciale BEST IN SHOW puppy gewonnen en ook in Belgie en Frankrijk zijn klasse gewonnen 🙂
Lithium v. Moned is voor het eerste meegeweest naar Frankrijk waar hij de sociale test, schot en verdediging met een Exellent heeft gehaald en is op zondag geselecteerd sr nadat hij zaterdag 14e werd van de 45 reuen in de openklasse!
French Kiss v. Moned with Domburg heeft ook weer meerdere CAC's gewonnen in Engeland!
Sadly the news page on the website doesnt get updated very often.. buzy buzy 😉 We do update the picture albums of our litters weekly so please have a look around to see all the new picture's posted in the albums 🙂 Finally a little update! 
We are very proud to announce that our special In Bloom v. Moned is the very proud mother of her first litter of 6 by the beautiful Fandango du bois du Tôt! More info click here
Also our other dogs didnt sit still… here some highlights: 
Rodin v. Moned passed the official sheepherding instinct test of the kennel club NHAT on the highest level! he also got selected Se (Selection Exterieur) at the BHCN Dutch specialty!  Rodin alss came with us to France again where he got a beautiful  9e place of the 45 males in open class! Also his daughter did very well winning best in show youth dog at the French specialty.. she beat many many dogs 🙂 
Toendra v. Moned  also competed in the official sheepherding instinct test of the kennel club NHAT and he also passed it on the highest level. He also has been to his first few shows with only first places and his last show BEST IN SHOW puppy at the Dutch BHCN specialty!
Lithium v. Moned came to the French specialty for the first time and passed the French temprement test with social, shooting and defence with a exellent 🙂 He also got selected sr on sunday afther he got Ex 14 of the 45 males on saterday! 
French Kiss v. Moned with Domburg also won some more CC's in England 🙂 
Wij willen Guillaume Guy ontzettend feliciteren met WOWBengals BraveHeart of Bengalleopard. In het afgelopen jaar heeft Braveheart geschitterd op de Canadese shows met nu het eindresultaat, Braveheart is de beste Bengaal van Canada! ook is hij 6e beste kat van Canada en 16e beste kitten! Dit is heel bijzonder omdat Braveheart nog een zeer jonge kater is! Nogmaals gefeliciteerd!
We want to send massive congrats to Guillaume Guy with the beautiful WOWBengals BraveHeart of Bengalleopard. In the past year Braveheart shined on the Canadian shows with these great final results! Braveheart is Best Bengal in Canada, he is also 6th best cat overall and 15th best kitten! This is great results as Braveheart is still a very young cat.. He still needs time to mature.. we are very very proud..! Congrats again!
In mei zijn we weer naar de Nederlandse speciale geweest (speciaal voor Belgische herders) Op zaterdag hebben we met 3 honden de gedragstest gedaan, Rodin v. Moned MET LOF, Lithium v. Moned MET LOF en IJssel v. Moned Sociaal +. We zijn zeer trots dat Rodin en Lithium de gedragstest op het hoogste niveau hebben gehaald! ook onze IJssel deed de gedragstest heel goed door het sociale gedeelte en de verdediging op het hoogste niveau te halen! Zondag was de show, Rodin 1U en later geselecteerd als aanbevolen dekreu, Lithium 3U en later geselecteerd als aanbevolen dekreu, Seine 2U en onze kleine Desert v. Moned BEST PUPPY IN SHOW!
In Mai we went to the Dutch specialty for Belgian Shepherds. On Saterday were the temprement tests, we did them with 3 of our dogs, Rodin v. Moned MET LOF, Lithium v. Moned MET LOF & IJssel v. Moned Sociaal+. We are very proud that both Rodin and Lithium passed the temperement test on highest level! also IJssel passed the social and defence part of the test on highest level! we are very proud of these great dogs 🙂 On Sunday was the show. Rodin Ex1 and selected pE, Lithium Ex3 and selected pE, Seine 2Ex and our beautfiul little Desert won BEST PUPPY IN SHOW!
Weer thuis en terug op aarde LOL. Ook dit jaar zijn we weer afgereist naar de grootste Engelse show van het jaar "Crufts" Als eerste super gefeliciteerd voor Nicky Mackie en Nesta Snell met hun prachtige Hawksflight Made You Smile "Roxy" die BOB werd op de Crufts en bij de beste 7 in de eindkeuring werd gekozen! Roxy Roxy haar vader is Vegas v. Moned at Domburg wat het toch een beetje een familie winning maakt 😉 Uiteraard gefeliciteerd aan Linda Lester Davina Jones Mark & Ollie met hun su[er French Kiss v. Moned with Domburg die voor het 3e jaar CC en beste reu is geworden! wat een geweldige prestatie! Ook super gefeliciteerd Den en Rose Met hun mooie Trixie (Its all in a Kiss v. Moned) die een mooie 1e plaats behaalde in haar klasse waar 16 teven waren ingeschreven! de keurmeester voor deze dag was Paul Lawless (Revloch kennel)
Home and back on the planet LOL. Had another super weekend at Crufts! First of all big congrats to all the winners! specialy ofcourse to Nicky Mackie and Nesta Snell with there stunning Hawksflight Made You Smile "Roxy" winning Best of breed like her sister did 3 years ago and getting shortlisted in the group! Roxy her father is Vegas v. Moned at Domburg.. so it makes a family winning and proud to be at the end of her leash for her class win and BOB 🙂 Than ofcourse to Linda Lester Davina Jones Mark & Ollie with there super French Kiss v. Moned with Domburg winning the CC again.. the 3th time at Crufts! unbelievable realy! big thanks to "team Dekker" who include his groomer Sarah Davis, his handler Sandra Smith, and ofcourse his owners who go far and wide, spare no time and effort to make sure Dek is presented and feeling the best way possible!! Also massive congrats to Den and Rose with there lovely Trixie (Its all in a Kiss v. Moned) who won the biggest class of the day! 16 girls entered at Post grad class! Thank you for trusting me with your special girl.. as I know this was a big step but it paid off I think 😉 Well done!! Judge Paul Lawless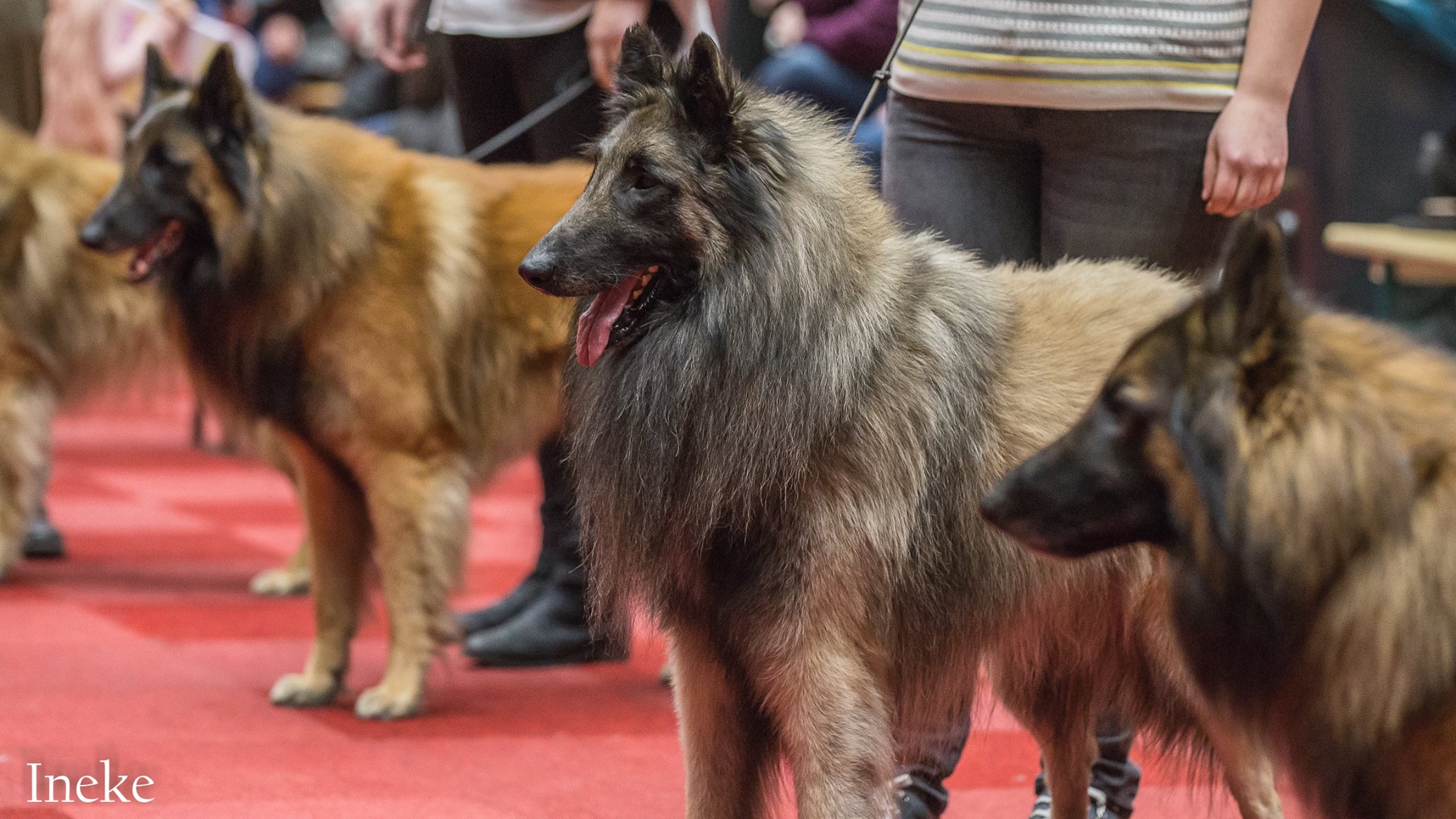 Gisteren op de internationale show in Groningen heeft Rodin v. Moned 1 U in een mooie open klasse gehaald, daarna CAC, CACIB & Beste reu! De keurmeester van deze dag was Pauline Stern Hanf Koning. Ook  Blue Dodge Nitro v. Moned won 1U in de veteraan klasse en heeft met dit resultaat zijn Veteranen kampioenschap behaald! super gefeliciteerd Liek & Remco! Helaas heeft Rodin 1 week voor de show met een ruzie met een andere hond zijn bovenkaak behoorkijk beschadigt wat heeft geresulteerd in het verliezen van in ieder geval zijn PM2 rechts boven.. we hopen dat het bij deze tand blijft. Dit betekend dat dit het einde is van het grootste deel van zijn show carrière waar wij natuurlijk ontzettend van balen! gelukkig lijkt hij er zelf weinig tot geen last van te hebben!
Yesterday at the International dogshow in Groningen Rodin v. Moned won 1 Ex in a nice open class. than CAC, CACIB & Best male 🙂 Finaly beaten by the beautiful Sezanne Canis Lupus who won the herding group at the end! (I think first ever grey dog to do so in NL!) Also Blue Dodge Nitro v. Moned won 1Ex in the veteran class and finished the title of veteran champion 🙂 many congrats Liek & Remco! Congrats to all the winners of the day 🙂 Judge was Pauline Koning-Stern Hanf (Pic by Ineke Mambo ofcourse! Thank you!) Sadly 1 week before this show Rodin badly damaged his jaw. He now lost his PM2 on the right side.. this will end the biggest part of his show carrier 🙁 luckely he is feeling oke and is a happy boy like always!
Super gefeliciteerd Wim van Lancker & Zion van Moned met het winnen van de titel Belgisch behendigheid kampioen voor de 5e x! Met dit resultaat is Zion ook weer geselecteerd voor het WK behendigheid als team en individueel.. We zijn ontzettend trots dat Zion met zijn 9,5 jarige leeftijd het nog prima op kan nemen tegen de jonge honden!
/
Many congrats to Wim van Lancker & Zion v. Moned to win Belgian Champion agility for the 5th time! He is qualified for the WK again for team Belgium and individual! Very glad to hear he is still able to compeet (and win) against the young one's as Zion is now 9,5 years young! Well done!!
Galadriel v. Moned is op de leeftijd van net 2 jaar UKC groot kampioen geworden! Een hele mooie prestatie op deze jonge leeftijd en natuurlijk ook omdat in Amerika alle belgen tegen elkaar moeten strijden.. dit betekend dat zij meerdere keren alle variateiten heeft moeten verslaan om deze titel te behalen!
/
On the age of just 2 years old Galadriel v. Moned earned the title UKC grand champion! What a great accomplicement for this young age and specialy because in the US all the variaties need to compeet against eachother to earn this title.. this means that Gala needed to win the champion class from all variaties for several times! Well done special girly!
Op maandag 13 februari hebben we de verschrikkelijk moeilijke beslissing moeten nemen om onze hele speciale Ultra te laten gaan.. nadat ze begin december gediagnosticeerd was met bot kanker aan haar achterpoot en al uitzaaiingen in haar longen hebben we haar gelukkig met goede pijnstillers nog 2 mooie en pijnvrije maanden kunnen geven. Nadat we vrijdag Kismet haar 16 verjaardag hadden gevierd en nog een paar foto's van de oude meiden hadden gemaakt werd Ultra ineens blind en gedeeltelijk verlamd in het weekend. Ze is overleden in de armen van de gene waar ze het meeste van hield, Kayleigh. Ze is nu vrij en weer samen met haar Moeder en beste vriend Unir die we een half jaar geleden hebben moeten laten gaan. We zullen onze speciale en unieke Ultra nooit vergeten, ze heeft ons zoveel plezier gebracht. Haar kleinkinderen die geboren zijn op 1 januari geven ons weer nieuwe hoop voor de toekomst.. Maar er is natuurlijk maar 1 Ultra.. RIP speciale meid, we zullen je voor altijd missen.
On monday the 13th of februari we made the heartbreaking decision to let Ultra go..after being diagnosed with bone cancer almost two months ago we were very lucky to have her with us for another 2 months keeping her happy and painfree. Just after celebrating her 'sisters' 16th brithday on friday and taking pictures outside, suddely over the weekend she got blind and partly paralized… she died in the arms of the person she loved the most, Kayleigh, so she can run free now with her mother and her big friend Unir we lost last year.. Our dear special unique Ultra will never be forgotten…she brought us so much joy. Her grandchildren born on the 1th of januari this year will give us a new hope for the future.. but ofcourse there will always be only one Ultra..Special girl RIP….you will always be missed..
Dit weekend zijn we afgereisd naar Parijs om daar met Sioux mee te doen aan de Paris dogshow, Zaterdag was er een speciale en zondag voor alle rassen. Sioux wist beide dagen 1U CAC & BOB te halen! Ook kregen ze zondag het CACIB, met dit resultaat is Sioux nu Frans & Internationaal kampioen!! We zijn zeer trots op haar! De keurmeestes voor deze 2 dagen waren Jean-Louis Vandenbemden & Sandra Dubach
———————————————————————————
This weekend we took a trip to Paris to compeet at the Paris dogshow with our lovely Sioux. On saterday there was a specialty and sunday a albreed show. Sioux won both day's 1Ex, CAC & BOB, she also got the CACIB on sunday. With this results Sioux is now a French & International champion! We are very proud 🙂 Thanks to the judges Jean-Louis Vandenbemden & Sandra Dubach
De puppies groeien goed! Nieuwe foto's zijn toegevoed klik hier om ze te bekijken! Ook hebben we besloten dat dit ons Wilderness thema zal zijn.. de reuen zullen Steppe, Taiga & Toendra gaan heten. De teefjes zullen Amazone, Desert & Sahara gaan heten.
The puppies are doing very well! We made some new picture's click here to see them. We also decided that this will be our Wilderness litter. The males will be named: Steppe, Taiga & Toendra. The females will be named Amazone, Desert & Sahara
Na meer dan een jaar geen puppies is Blow me a Kiss "Fling" bevallen!!! voor de eerste foto's en meer info klik hier 
Afther more than a year no puppies Blow me a Kiss "Fling" has delivered her puppies!!! for more info click here 
Afgelopen weekend is French Kiss "Dekker" weer naar Nederland gekomen, deze keer voor de 3 daagse Winner show in Amsterdam. Dekker wist beide dagen 1U, CAC, CACIB en BOB te worden. Ook werd hij zaterdag geplaatst bij de beste 8 in de Herder groep! Met dit resultaat is Dekker officieel Nederlands Kampioen! en dat in 2 show weekends. 🙂 Ook kregen we dit weekend het resultaat van de "Top dog" competitie in Engeland. Dekker is voor het 3e jaar op rij de meest succesvolle Tervueren! We zijn natuurlijk ontzettend trots! Super gefeliciteerd Davina, Mark, Ollie & Linda die stad en land afreizen zodat Dekker zijn titel kan verdedigen 🙂
The past weekend French Kiss "Dekker" Came to the Netherlands again, this time for the winner show in Amsterdam. Dekker won 1Ex, CAC, CACIB & BOB both day's! he was also placed with the best 8th of the herding group on Saterday! with this result Dekker is now officialy a Dutch champion in only 2 show weekends! We also got the result of the Top dog (most succesfull show Tervueren) competition in the UK. Dekker is Top dog for the 3th year in a row! We are so proud!! Many congrats to Dekker his owners Davina, Mark, Ollie & Linda who travel close and far to make sure Dekker can keep "his" title!